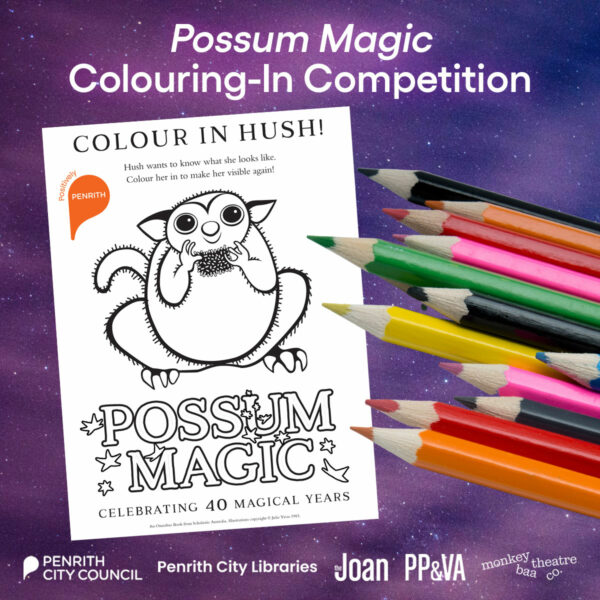 Grandma Poss made bush magic.
She made wombats blue and kookaburras pink. 
Join The Joan and Penrith City Libraries in celebrating 40 spellbinding years of the beloved children's book Possum Magic coming to life on The Joan's stage 4 – 6 May, with our magical colouring-in competition! Drawing inspiration from Grandma Poss, use a variety of different art and craft supplies such as glitter, coloured paper, pom poms, crayons, and pencils to get creative and make your entry unique. 
Competition Categories
One lucky winner and highly commended entry will be selected from the competition categories of:
Ages 3 – 5; and
Ages 6 – 8.
Prizes
Each winner will receive a gift voucher for a family pass (four tickets) valued at $90, to see one Kids and Families season performance at The Joan in 2023. The highly commended entrants will be awarded with a Possum Magic Book & Toy Gift Set, valued at $15.
Entry Details
Entry is valid for Penrith City Libraries members aged 3 – 8 (as of Friday 28 April 2023) only. Not a member and wish to join? Membership is free – simply visit your local library branch to sign up today! Click here to find your closest branch.
Get a Copy of the Colouring-In Sheet and Download the Terms & Conditions
Download a colouring-in sheet by clicking the button, below, or visit a Penrith City Libraries branch to pick up a copy.
Click Here to Download Your Colouring-In Entry Sheet
Click Here to Download the Terms & Conditions
Competition Closing Date
Entries close 5pm Friday 28 April 2023.
Good luck!
This competition is being run in collaboration between The Joan and Penrith City Libraries. Proudly supported by Penrith City Council.
---

Illustration copyright © Julie Vivas, 1983