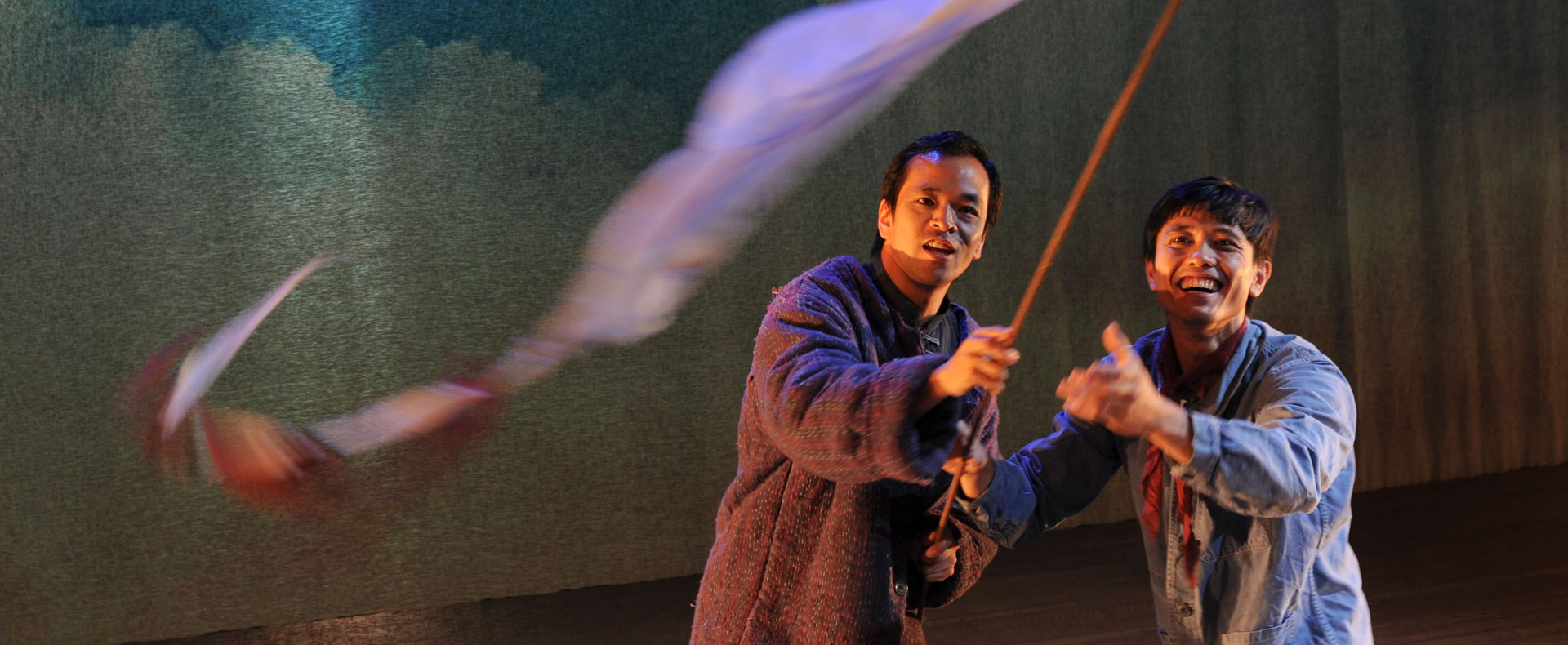 Photo
/ By Heidrun Löhr. Photos from 2016 national tour feature performers Jenevieve Chang, Jonathan Chan, John Goodway and Edric Hong.
Producer
/ A Monkey Baa Theatre Company Production
The Peasant Prince
Based on the book by Li Cunxin, Illustrated by Anne Spudvilas. Adapted for the stage by Eva Di Cesare, Sandie Eldridge and Tim McGarry.
Prepare to be mesmerised as Monkey Baa's multi award-winning production The Peasant Prince returns to the stage for a limited time.
In a poor village in northern China, Li, a 10-year-old boy is taken away from everything he knows and sent to a ballet academy in the big city. He is afraid, but his mother urges him to follow his dreams.
Based on the children's version of Li Cunxin's internationally best-selling memoir, Mao's Last Dancer, this remarkable story of courage, resilience, and unwavering hope, will ignite your dreams and inspire you to be the best person you can be.
---
AUDIENCE INFORMATION
This production contains themes of racism and simulated violence.
General Public: Suitable for ages 7 – 12 and their families.
Schools: Suitable for Years 2 – 6. Please see the 'Schools Bookings and Resources' section below for more information and to book.
Duration: 60 minutes (No interval plus a 10-minute Q&A following the weekday performance).
Accessible Performances: The performances on Saturday 11 May and Monday 13 May at 10am will be relaxed performances. A visual story will be available closer to the performance season to accompany it. The visual story will be available to download here closer to the performance season.
---
SHOW AND WORKSHOP PACKAGE
SUITABLE FOR AGES 7 – 12

Make it a memorable day out and enhance your theatrical experience with our show and workshop package!
This special offer includes a ticket to a performance of The Peasant Prince at The Joan and a 1.5 hour interactive Chasing Your Dreams post-show drama workshop that will allow participants to bring their dreams to life as they create a unique character.
Please Note: You are welcome to wait for your children outside the room the workshop is taking place in. All children must be accompanied to the theatre to see the show by a parent/guardian 18+ with a valid Standard Ticket. Standard Tickets can be purchased for adults and any additional children not participating in the workshop at the time of purchasing a Show and Workshop Package.
SHOW AND WORKSHOP PACKAGE
Saturday 11 May at 10am – 11am (Show) and 11:30am – 1pm (Workshop)
Show and Workshop Package – Click Here to Book Now
SHOW ONLY
Saturday 11 May at 10am (Relaxed Performance)
Monday 13 May at 10am (Relaxed Performance) & 12:30pm
Schools Bookings and Resources
EDUCATIONAL RESOURCES

Curriculum Links
English, Creative Arts – Drama and HSIE – History (Stages 1 – 3).
Click here to download a full version of the NSW State Curriculum Links.
Learning Resource Kit and Online Resources
Coming Soon – Check back here in 2024.
Free Post-Show Q&A Session
A free 10-minute Q&A session with the cast will be held following the performance on Monday 13 May at 10am.
Free Workshops
Free In-School Workshops run by Monkey Baa are available for the first two schools who book tickets to The Peasant Prince.
Led by a professional teaching artist and featuring content tailored to the show, these invaluable workshops allow students and teachers to explore the plot, themes and production of The Peasant Prince before seeing it on stage, through various drama-based activities.
Book your tickets to The Peasant Prince early to avoid the disappointment of missing out on these workshops!
---
PLAN AND BOOK YOUR EXCURSION
Getting Here
Click here for information about our venue and getting here.
Risk Assessment
Click here to download The Joan's 2024 Risk Assessment.
Booking Form
Meet the Cast and Creatives
Playwrights: Eva Di Cesare, Sandie Eldridge and Tim McGarry
Director: Tim McGarry
Remount Director: Egan Sun-Bin
Production Designer: Michael Hankin
Composer: Daryl Wallis
Movement Director: Danielle Micich
Remount Movement Director: Lia Reutens
Lighting Designer: Sian James-Holland
Author and Script Consultant: Li Cunxin
Read the Reviews
"It's a vivid piece of storytelling that is skillful, theatrical and inspiring. It was a loving and honest adaptation of Li's treasured memoir." – Stage Whispers
"The Peasant Prince is vital, exuberant, aspirational, and inspirational." – Australian Stage
"Monkey Baa Theatre Company has created another wonderful work for children." – Broadway World
"My son was entranced and my daughter was mesmerised. I was drawn in by the magical telling of a powerful story told so simply and so well." – Sydney Arts Guide
"Monkey Baa has created, yet again, a gem for children and adults alike." – Theatre Now
Awards
Best Production for Children
Sydney Theatre Awards 2016
Most Outstanding Production for Children
Glug Awards 2016
Tour of the Year
Drovers Awards 2017