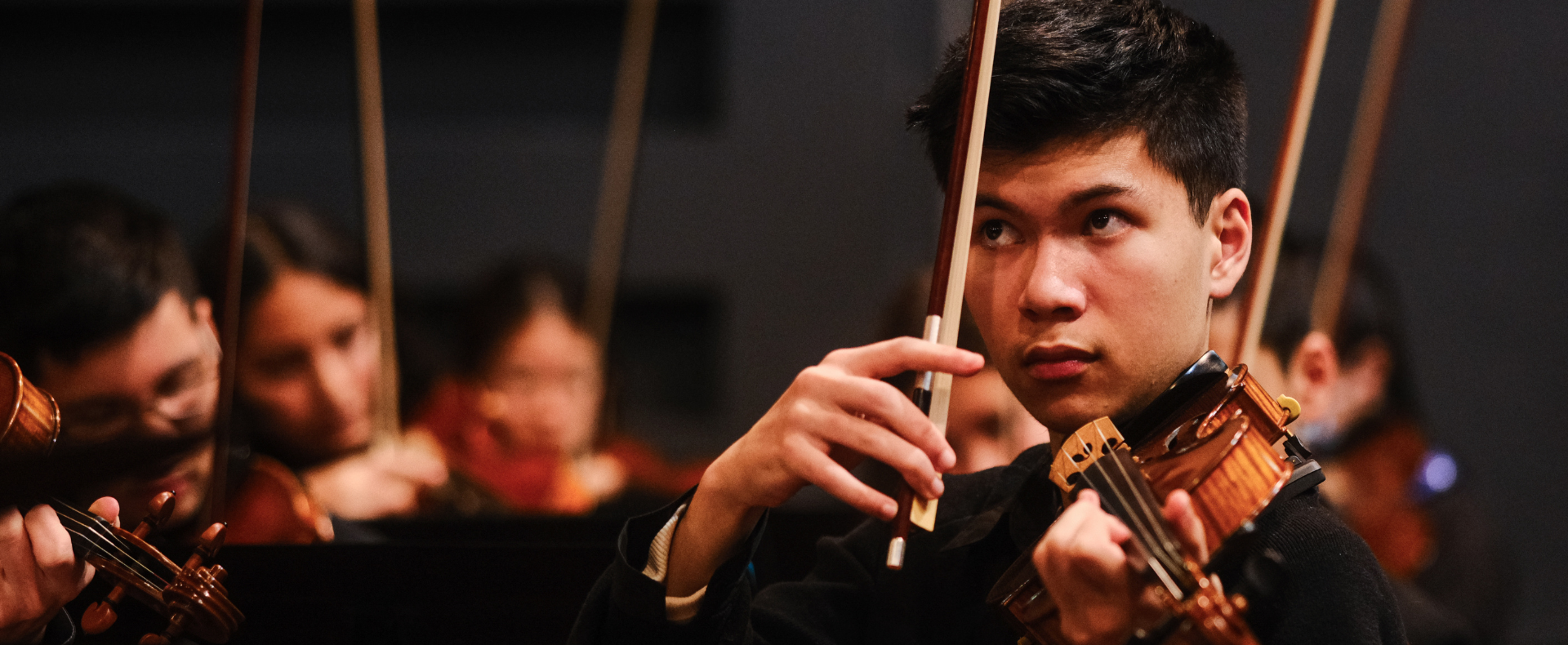 Photo
/ Eddy Summers
Producer
/ Penrith Conservatorium of Music
Penrith Youth Orchestra & Richard Bonynge Ensemble in Concert
Presented by Penrith Conservatorium of Music
Join us and our guest of honour, Maestro Richard Bonynge AC, CBE for an afternoon of wonderful music, featuring some of Western Sydney's best young musicians, in their cumulative concert of the year.
FULL PROGRAM
Richard Bonynge Ensemble
DVOŘÀK – Piano Quintet no.1 in A major, op.5, I. Allegro ma non troppo
TRADITIONAL – Excerpts from Wood Works (arr. Danish String Quartet)
Penrith Youth Orchestra
TCHAIKOVSKY – Pas de Deux, from The Nutcracker
WAGNER – Suite, from Tannhäuser
BEETHOVEN – Symphony no.5, I. Allegro con brio
SCHUBERT – Symphony no.8 'Unfinished', I. Allegro moderato
ABOUT RICHARD BONYNGE ENSEMBLE (RBE)
Established in 2021, the Richard Bonynge Ensemble is an elite ensemble comprising some of the finest young talents from Penrith Conservatorium of Music and Penrith Youth Orchestra. Through the integration of experienced musicians and mentors alongside young, talented instrumentalists, the ensemble aims to create its own distinctive style, unique culture, as well as train the next generation of classical musicians. In December 2021, the ensemble gave its first public performance at the unveiling of the commissioned portrait of Maestro Richard Bonynge AC, CBE by Australian artist Mathew Lynn.
ABOUT PENRITH YOUTH ORCHESTRA (PYO)
Penrith Youth Orchestra (PYO) is the evolution of the highly successful Penrith Strings ensemble that was established in 2015 by the Australian Chamber Orchestra (ACO), Penrith Symphony Orchestra (PSO), and Penrith Conservatorium of Music at the Joan Sutherland Performing Arts Centre. In 2018 PYO was launched to expand orchestral skills training and performance opportunities for young musicians in Western Sydney.
The Prices and How to Save
See more and save! In 2023, we are offering a pick-and-mix package discount of between 10 and 20% depending on how many shows you select.
3 shows – 10% off all tickets
5 shows – 15% of all tickets
8 shows and more – 20% of all tickets
---