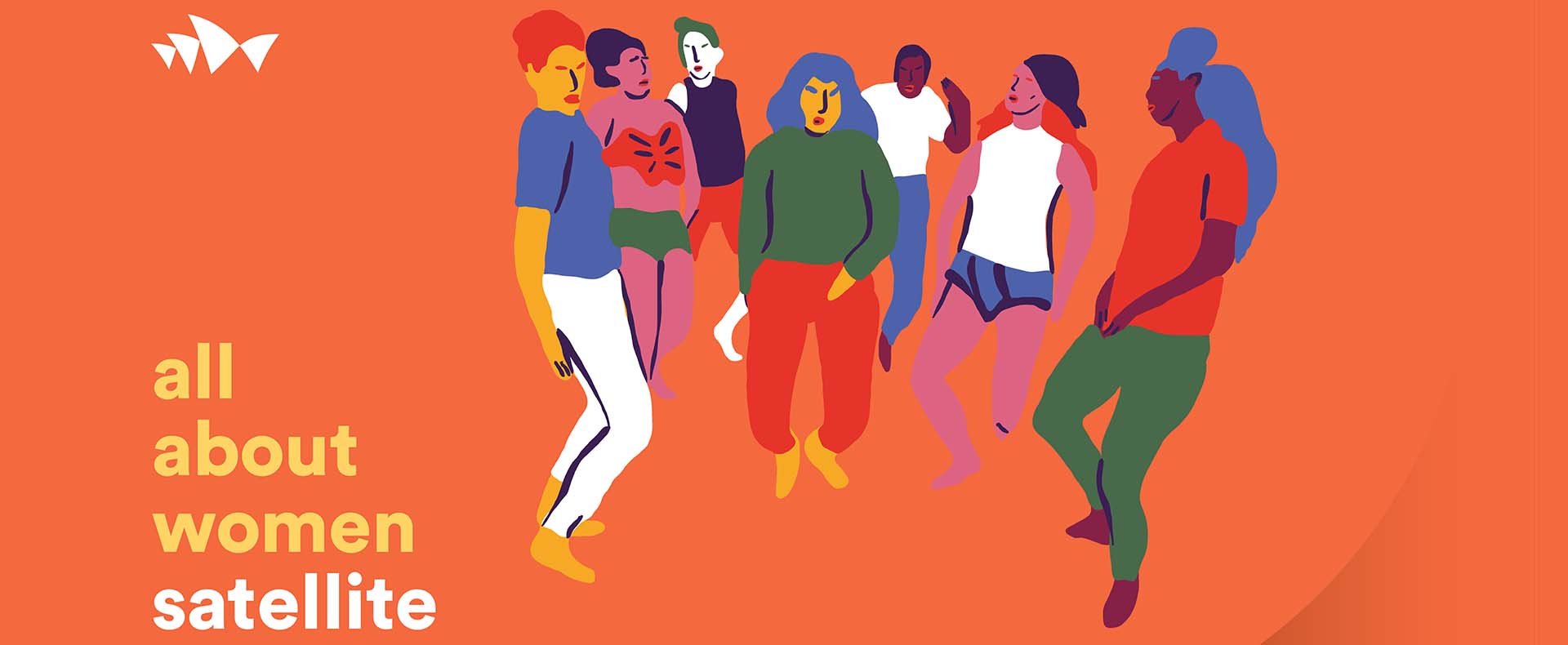 Producer
/ Sydney Opera House
All About Women Satellite 2019
Live streamed from the Sydney Opera House
You don't need to be at the Sydney Opera House on 10 March to experience the main stage action of All About Women. We're excited to be streaming two headline sessions and an exclusive backstage Q&A, live from this preeminent festival on gender.
All About Women features emerging new voices from around the world speaking to future directions in feminism.
ME TOO: YEAR TWO
Emily Steel, Sohaila Abdulali, Tina Tchen
hosted by Lenore Taylor
A decade since the Me Too campaign began, and a year since #metoo rocked the entertainment industry, there has been a clear cultural shift. Across industries, women who were preyed upon, exploited and harassed have spoken out and sought justice, and the movement has gone global.
But it hasn't all happened smoothly. Louis CK returned to the comedy stage. The Senate confirmed Brett Kavanaugh to the Supreme Court. Now that accountability frameworks have been put in place, are the structures of justice and legal systems changing? Have we seen a fundamental shift in the way power functions, or is it temporary and superficial? How is #metoo playing out in different countries and cultures?
In this essential panel, we'll be exploring how the movement must evolve to represent women worldwide, and to create long-lasting cultural and political change.
FEMINISM IN THE ARAB WORLD
Aya Chebbi, Dima Matta, Randa Abdel Fattah
hosted by Sarah Saleh
In a global feminist movement, our understanding of women's rights needs to go far beyond the English-speaking world.
Arab women are so often pigeonholed, orientalised and othered in western discussions about feminism. But the reality is there are strong feminist and LGBTQI movements across the Arab world. This panel, co curated by artist, poet and activist Sara Saleh, challenges the assumptions so frequently made by westerners, that Arab women are subjugated and oppressed, by giving space for some of the loudest activist voices across the middle east.
This session will demonstrate that discussions about women in the Arab world can go much deeper than "why do you wear hijab?", and explore the issues and concerns, both political and personal, for Arab women and LGBTQI people.
Enjoy a light lunch at 12pm and an afternoon of invigorating discussions on issues and ideas that matter to women today. Our host and MC Amy Zhang will bring her skills and passion to the fore as she creates an opportunity to connect, engage and question.
ABOUT AMY ZHANG

Amy Zhang is a make-up artist, professional dancer, velvet tracksuit enthusiast, producer and Groove Therapist.
On a dance level, Amy is an Australian-born dancer who has completely immersed herself in the global street dance scene by working, teaching, choreographing and performing both nationally and internationally.
Amy moved to Sydney to train under Brent Street's full time course and caught the eye of many, gaining roles as a feature dancer for the likes of Nike, Wrangler, Universal Store and Paces. She toured through L.A with Bust a Move Dance Company, performing at the Special Olympics World Games and the annual Dizzy Feet Gala.
She is known in Sydney for her versatility, rocking her groove when she jumps into hip hop and other street styles whilst also being trained in ballet, contemporary and jazz styles. Amy's extensive dance vocabulary is no accident, as she has been mentored by and performed for some of the biggest international choreographers, including Dana Foglia and Rob Rich, recently placing in the Australian division of the internationally renowned urban dance crew RichFam
TIMETABLE 
12pm – 1.00pm           Guests arrive, Lunch
1pm – 1.15pm              Welcome from The Joan and the Host (Amy Zhang)
1.15pm – 1.30pm         Exclusive Satellite Reel Introduction to the All About Women Program
1.30pm – 2.30pm         Session 1 – #MeToo, Year Two – Emily Steel, Sohaila Abdulali, Tina Tchen, hosted by Lenore Taylor
2.30pm – 3pm              Short facilitated session with the Host, tea and coffee break
3pm – 4pm                   Session 2 – Feminism in the Arab World – Aya Chebbi, Dima Matta, Randa Abdel Fattah, hosted by Sarah Saleh
4pm – 4.15pm              Short facilitated session with the Host
10 Mar 2019 12:00 pm
Sold Out