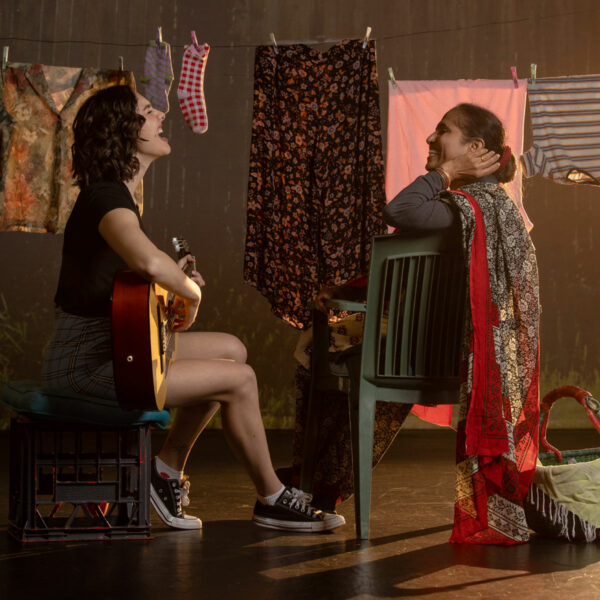 THE VILLAGE
By Tasnim Hossain
Directed by Bali Padda
Q Theatre Company is holding auditions for our upcoming season of The Village by Tasnim Hossain. This opportunity is open to actors of all levels of experience. Actors based in Western Sydney are strongly encouraged to audition.
If you have any questions about the audition process, or the production itself, you can contact the Q Theatre team using the details below. We look forward to hearing from you.
---
SYNOPSIS
Young Penrith singer-songwriter Taylah is lost. Her family fractured, she is living with her grandmother and desperately trying to find her way. An encounter with her neighbour Jay, and an unlikely bond forged with Jay's dadi (grandmother) Aparna, might just reveal the path she was looking for.
Originally commissioned in 2019, the development of this new Australian play by acclaimed writer Tasnim Hossain was inspired by Penrith City Council's Coffee Club in Kingswood, which invites socially isolated residents to enjoy morning tea with their neighbours. Exploring the connections we find in seemingly unlikely places, this beautiful four-hander explores love, loss, the distance between generations and the unlikely relationships formed when we find a way to reach through our differences.
---
AUDITION INFORMATION
Audition dates: 31 July – 2 August 2023
Audition location: Joan Sutherland Performing Arts Centre, 597 High St, Penrith 2750
To book an audition: Email your performance CV, a recent photograph, and your suburb of residence to rowan.bate@penrith.city by 5pm Monday 24 July. We will reply with more information about what to prepare for the audition.
Roles:
TAYLAH, female 17 – A rebellious dreamer who lives with her grandmother and is trying to start her music career. Sings and plays the guitar in the production. Of Anglo/European heritage.
APARNA, female late 60s – Jay's grandmother, currently visiting from India. Generous and pragmatic. Of Indian heritage. May be called upon to speak in Hindi.
CHRISTINE, female early 60s – Taylah's grandmother, a nurse and longtime Kingswood resident. Caring, but tough and can be set in her ways. Of Anglo/European heritage.
JAY, male 18 – Taylah's next door neighbour. Driven and self-assured; studies medicine at university because it's what his family wants, but dreams of forging his own path. Of Indian heritage.
Note: Performers must be over 18 years of age.
---
REHEARSAL AND PRACTICE INFORMATION
Performers will be required full time (10am – 6pm, Monday – Friday) for the duration of rehearsals.
Rehearsal dates: 28 August – 21 September 2023
Performance dates: 21 – 23 September 2023
Rehearsal and performance venue: Joan Sutherland Performing Arts Centre, 597 High St, Penrith 2750
---
PAYMENT
Performers will be paid a fee of $1,198.40 per week (Mon – Fri), or $1,246 if working on a Sunday, as per the Performer's Collective Agreement (Theatre). View the Agreement here.
---
CONTACT
To find out more, please contact:
Rowan Bate, Q Theatre Company Co-Creative Director
Email: rowan.bate@perith.city
Phone: (02) 4723 7600 (extension 2)
Click Here to Download A Copy of The Audition Notice
---
Photo
By Maja Baskar. Talent: Veena Sudarshan and Natasha Tatarinoff