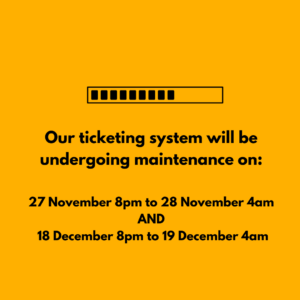 PLEASE NOTE: Our ticketing system will be undergoing maintenance on:
27 November 8pm – 28 November 4am
18 December 8pm – 19 December 4am
Unfortunately, during this period, our ticketing system may be inaccessible and you might not be able to book tickets. We would appreciate if you would avoid booking tickets during this time. We apologise for the inconvenience caused.