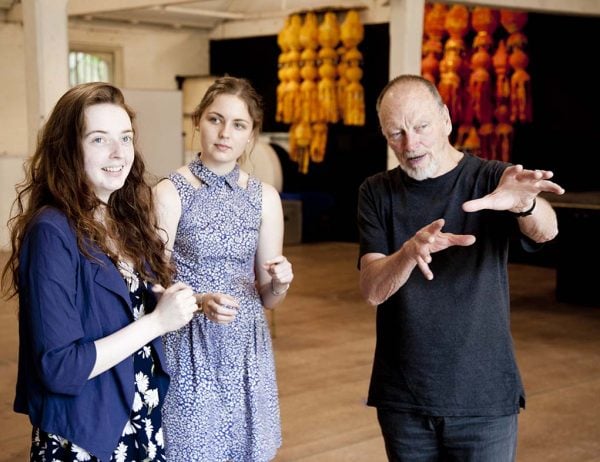 "Friends, Romans, countrymen, lend me your ears…"
We are delighted to host Bell Shakespeare's John Bell Scholarship auditions once again at The Joan this September.  The John Bell Scholarship (JBS) is a once-in-a-lifetime opportunity for students living in regional or remote areas, who are interested in a career as a performer. Three students are selected each year from across Australia to come to Sydney and spend a week with Bell Shakespeare. They will participate in acting masterclasses, be taught by John Bell, observe one week of Bell Shakespeare rehearsals, see live theatre and perform their winning monologue for Artistic Director Peter Evans and a Bell Shakespeare cast.
HOW THEY WORK
JBS auditions take the form of 15 minute one-on-one masterclasses with a member of Bell Shakespeare's The Players.
To be eligible to audition, students must be at least 16 years of age by 31 December 2018, and still be at high school full-time in 2018. The Auditions at The Joan in Penrith will take place:
WHEN: Saturday 22 September, sessions between 1.00pm and 5.30pm
WHERE: Joan Sutherland Performing Arts Centre, 597 High Street, Penrith
To book an audition session, eligible students must contact The Joan's Theatre Programs Coordinator, Ian Zammit, to book an audition session and provide the student's name, the high school they attend full time, and their parent's or guardian's contact name / phone number / email address. Book your audition session by contacting:
Ian Zammit, 02 4723 7606 (Tuesday-Friday 9.00am-4.30pm) or at ian.zammit@penrith.city
BOOKING DEADLINE: bookings close 4.30pm, Friday 31 August 2018
Auditioning students must then complete a registration form, to be handed to the Arts Educator at their audition on Saturday, 22 September. Students will not be eligible for the JBS if we do not have this form.
DOWNLOAD THE REGISTRATION FORM
Important dates:
Shortlist announced: November 2018
Recipients announced: December 2018
Scholarship week: January 2019
HOW TO PREPARE
Each student must perform a 1-2 minute monologue from the suggested monologue list provided by Bell Shakespeare or a monologue of their choice from any Shakespeare play.
AUDITION MONOLOGUE LIST – FEMALE
AUDITION MONOLOGUE LIST – MALE
Please note, selecting from Bell Shakespeare's suggested list will not affect the success of the students' audition. The suggested list is designed to make the selection of appropriate monologues a simpler process for students. Students may perform from either list, regardless of character gender.
ARTS EDUCATORS
Bell Shakespeare's Arts Educators are professional actors and/or directors who have worked with Bell Shakespeare in our main stage productions or our in-school performances and have been trained by the company as teachers. The Arts Educators present all Bell Shakespeare programmes and have a wealth of performance experience and knowledge of Shakespeare.
Your point of contact for further information or for any questions regarding the workshops is your local regional venue where the performances of Julius Caesar will be held.
Workshop contact: get in touch with Theatre Programs Coordinator at The Joan, Ian Zammit, between 9.00am-4.30pm Tuesdays to Fridays on 02 4723 7606 or via email on ian.zammit@penrith.city
JULIUS CAESAR AT THE JOAN
See Bell Shakespeare's production of Shakespeare's masterpiece of intrigue and treachery, Julius Caesar, on the Q Theatre's stage, this October at The Joan.
JULIUS CAESAR by Bell Shakespeare
Friday, Oct 5 2018 7:30pm
Saturday, Oct 6 2018 2:00pm
Saturday, Oct 6 2018 7:30pm