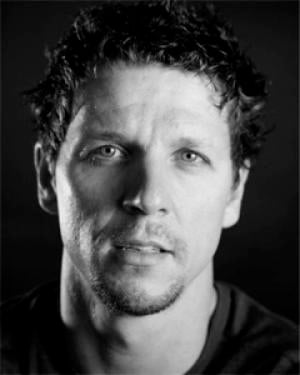 Nathan Sheens is in residence at The Joan right now with his talented tapping crew, working on BPM – beatsperminute, which is on 8 & 9 May (don't miss it).
The show that has been hailed as the 'next big thing to hit the stage', BPM – beatsperminute intertwines tap, vocals, bass, guitar and drums, layering live rhythms to invent a new interpretation of the art of tap.
This sizzling show, which has toured internationally and enjoyed sell-out seasons at the Sydney Opera House, was created by Nathan, an original cast member, dance director and lead performer in the highly acclaimed and much-loved Tap Dogs. He also worked as assistant choreographer to Dein Perry on the 2000 Sydney Olympics opening ceremony and starred in the original Australian cast of Billy Elliott.
Nathan, along with dynamic performer and choreographer Glyn Gray – who appeared as a featured dancer in Baz Luhrmann's movie Moulin Rouge – and established Australian musician Brett Canning (Missy Higgins, Ross Wilson, Ben Lee, Pete Murray, The Waifs), has created an electrifying fusion of physicality, pulsating beats and energetic sounds that will be sure to set hearts racing this May at The Joan.
We caught up with Nathan recently and he gave us some insights into the show, his working days and childhood daydreams, and performing with Stevie Wonder.
What do you most want people to know about BPM?  
BPM is a tap show full of life and is very uplifting. It has a cast of 7 creative and very unique artists with skills ranging from musicianship to vocals and tap dance. All elements within the show complement each other and take the audience on a musical journey. With a new and vibrant cast BPM is set to a new original score that will not disappoint.
How has it evolved and what have been the biggest highlights of the show so far?
BPM started out as a one night Jam session. Even from its early conception we knew that BPM was something special and needed to be shared with audiences around Australia. BPM always continues to evolve, with our season at The Joan we have made some changes to our original score choreography and conceptional ideas.. With a sell out season at the Sydney Opera House and our national tour we are very happy to bring the show to Penrith and show the locals our talent.
Describe a day in your working life…
Always creative and trying new and inventive things. Choreographing on a daily basis and keeping the toes tapping.
What did you want to do with your career when you were growing up?
As child I always had the dream of performing in front of large crowds. I was given many opportunities through dance and for this I am very thankful.
What has been your favourite moment or moments in the theatre?
Performing on the London's West End and on Broadway New York City were two very big milestones.
And your favourite / most memorable musical moments?
Many moments to be shared, I have had many opportunities within my career. The most memorable musical moment would be performing with Stevie Wonder at the Quincy Jones Concert in California.
If I could see anyone perform at The Joan it would be…
PRINCE
Name six people you'd invite to dinner if you could invite anyone at all, living or not.
Family – very large and always come first.