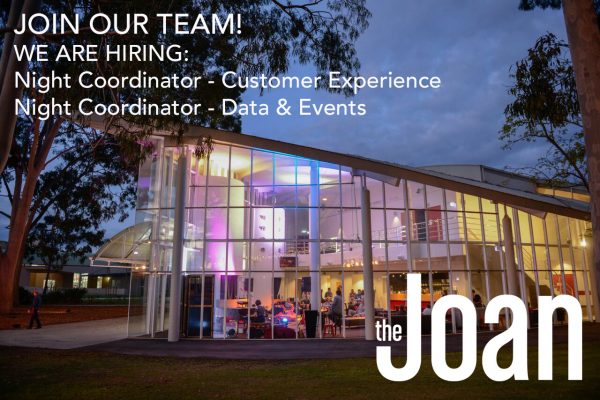 Night Coordinators – Two part-time roles (Data and Events | Customer Experience)
Penrith Location | approx. 15 hours per week each
LGA Level 5
Penrith Performing & Visual Arts is on the hunt for two Night Coordinators, part-time complementary roles that work as part of the broader Venue Services team across the range of educational, artistic, community and Conservatorium programs of the Joan Sutherland Performing Arts Centre.
A well-presented, skilled communicator, the Night Coordinator is responsible for security, ticketing and venue services primarily during rehearsal and teaching evening periods. You will need to have skills across a specialised range of systems, excellent communication skills and the ability to think laterally to help coordinate information and services across the diverse teams and extended operating hours of The Joan.
The Night Coordinator – Data and Events will also assist in information collection, reporting and analysis; and the Night Coordinator – Customer Experience will assist in the design and maintenance of collateral and displays across the organisation.
Closing Monday 28 August (midnight)
HOW TO APPLY
Please carefully consider the Position Description, including the Essential and Desirable Skills, Qualifications and Experience, and prepare an application that references these. Include an up to date Resume and two referees, and email to:
Dave Garner, Business Manager, Penrith Performing & Visual Arts: dave.garner@penrith.city
If you have questions about the role please contact Haydn Vredegoor, Venue Operations Coordinator: haydn.vredegoor@penrith.city