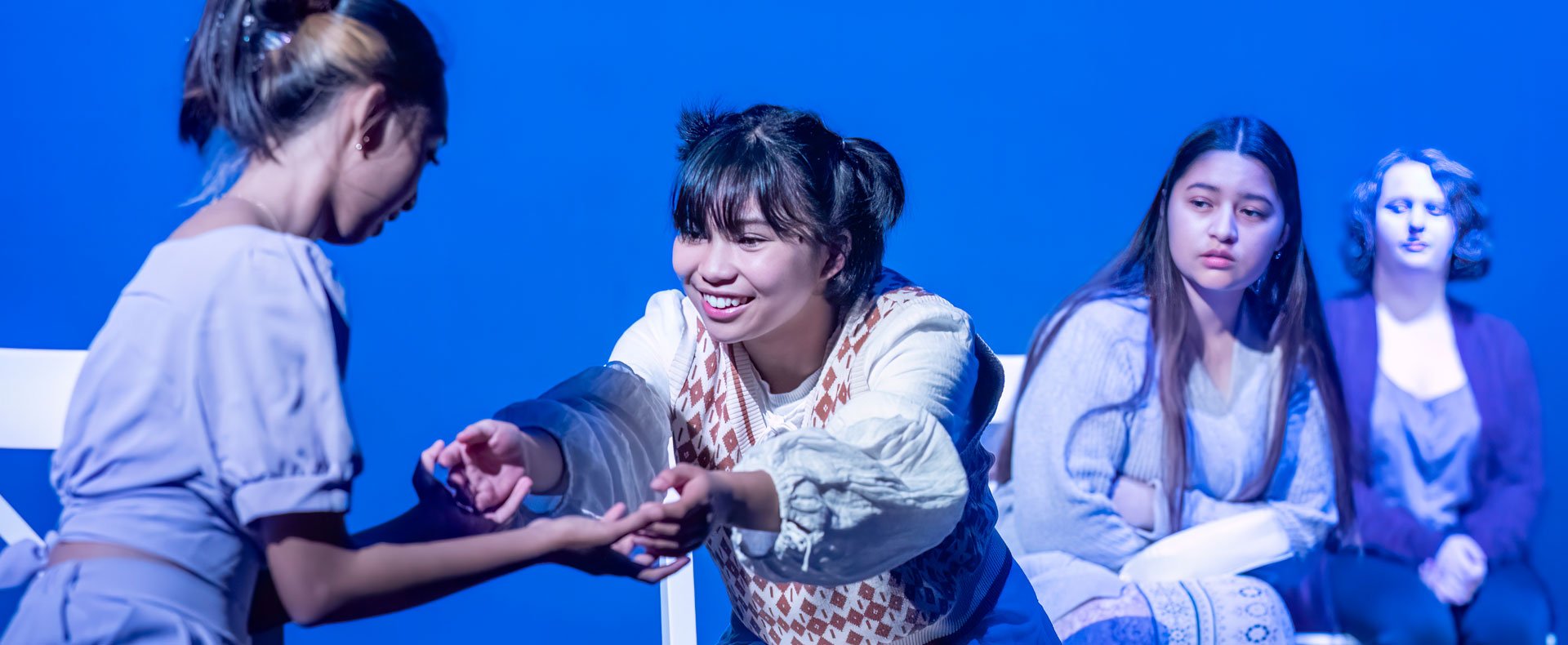 Photo
/ The Riff: Youth Theatre Festival 2023. Photo by Christopher Hayles
Producer
/ Q Theatre
The Riff: Youth Theatre Festival 2024
Shining the spotlight on the talented young theatre makers from the Western Sydney region!
First came Flannofest, then Q Theatre's Annual Youth Theatre Festival…
After over 30 years of providing local young people with a platform to express their ideas and experience working in a professional theatre setting, Q Theatre's key youth event, The Riff: Youth Theatre Festival, returns for another year!
This initiative continues to support teachers in providing one-of-a-kind experiences for their students to exercise their creative voices in exploring local identity and global issues, whilst developing the next generation of Western Sydney performing artists and creatives.
We invite young people from local secondary schools to participate in the festival as:
Creators and Performers – Participating school groups will have a professional theatre artist work with them through an in-theatre and in-school residency program, to help guide the performance development process and direct rehearsals of the final piece. This work will be showcased as part of The Riff: Youth Theatre Festival on Q Theatre's professional stage at The Joan.
Audience Members – Non-participating school groups' attendance at The Riff will support fellow young artists in the region whilst enhancing their understanding and appreciation of theatrical performance making, production and design. The Riff: Youth Theatre Festival sparks inspiring discussions in the classroom on themes and ideas, performance styles, theatrical conventions and design, devised and collaborative performance making.
Q Theatre is proud to give young and emerging artists the chance to gain performing arts production experience in a professional theatre environment, whilst gaining invaluable industry expertise from arts professionals through this unique program.
Scroll down for more information.
---
AUDIENCE INFORMATION
General Public: Suitable for ages 14+.
Schools: Suitable for Years 9 – 11. Please see the 'Schools Bookings and Resources' section below for more information, to apply or book.
Schools Bookings and Resources
KEY DATES
Applications Open: Tuesday 30 January at 9am
Applications Close: Friday 16 February at 5pm
In-Theatre Stagecraft Workshops: Monday 8, Tuesday 9, Thursday 11 and Friday 12 April
Technical Rehearsals: Monday 24 – Thursday 27 June
Final Performances: Friday 28 June at 12pm & 7pm
---
EDUCATIONAL RESOURCES 
Curriculum Links
English and Creative Arts – Drama (Stages 5 – 6).
Click here to download a full version of the NSW State Curriculum Links.
---
PLAN YOUR EXCURSION
Getting Here
Click here for information about our venue and getting here.
Risk Assessment
Click here to download The Joan's Risk Assessment.
---
APPLY NOW
Information and Application Pack
Click Here to Download an Information and Application Pack
Application Form
Available soon – please check back here Tuesday 30 January at 9am.