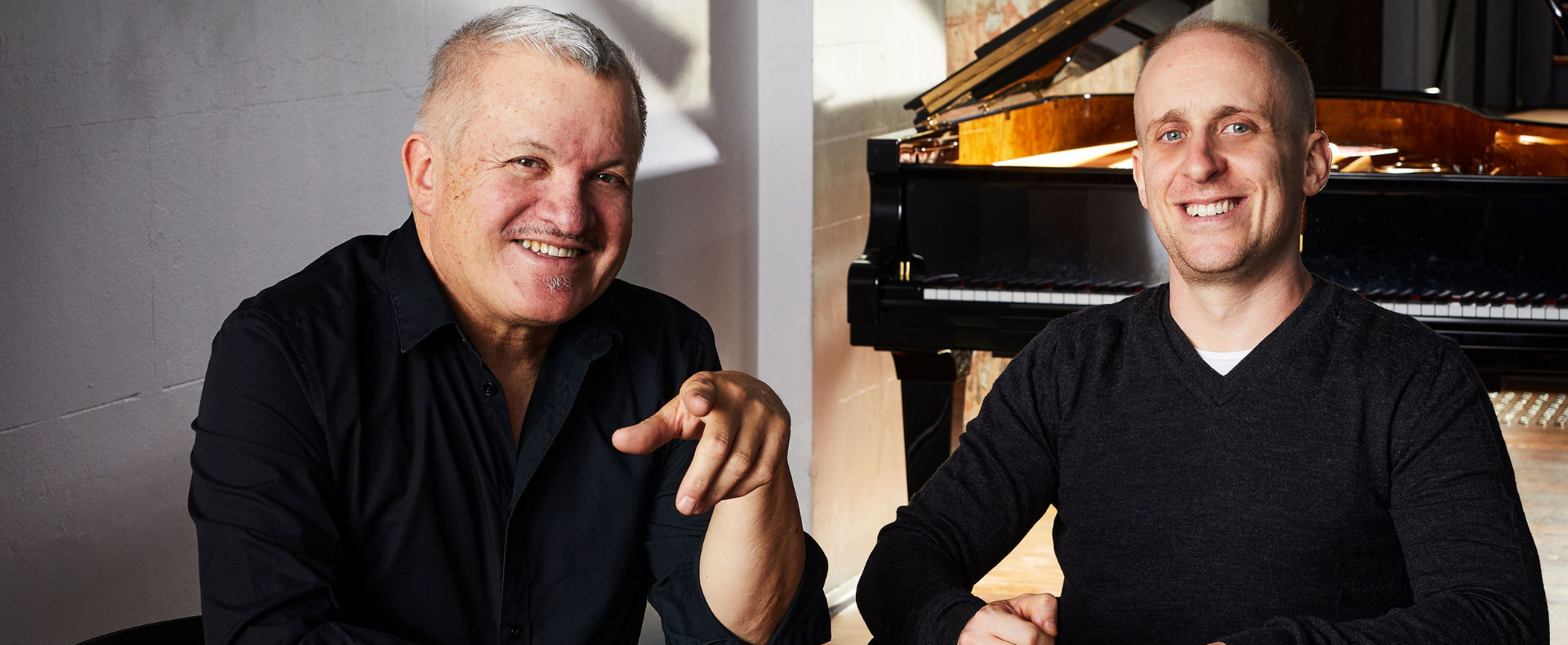 Photo
/ Keith Saunders
Producer
/ Cinque Artist Management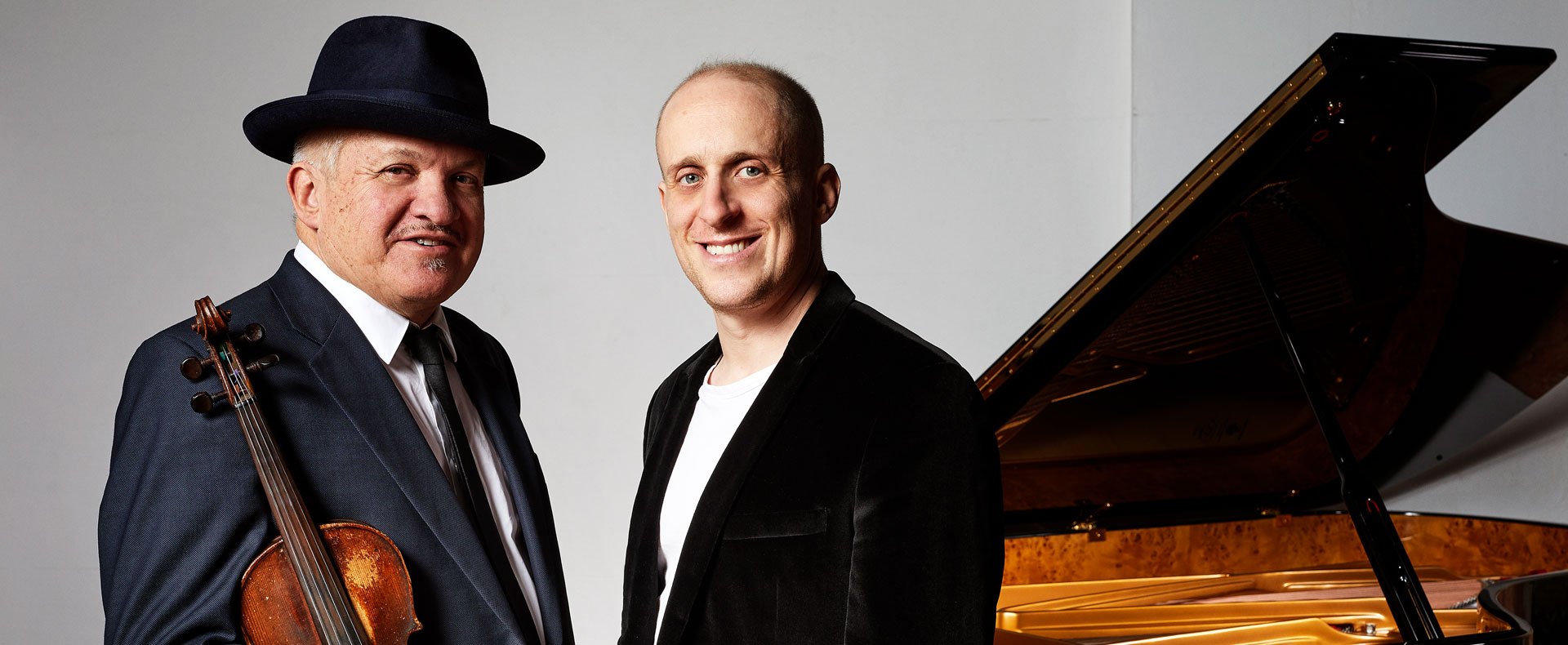 Photo
/ Keith Saunders
Producer
/ Cinque Artist Management
Simon & George:
Together Again with a six piece jazz band
What do you get when you cross a classical pianist with a jazz violinist and vocalist? A spellbinding combo of groove, grace and room for the unexpected!
Join award-winning pianist Simon Tedeschi and acclaimed jazz partner-in-crime George Washingmachine as they return to The Joan, this time with a hand-picked six piece jazz band in tow.
Together they'll swing and improvise over their favourite classics from the jazz repertory, including Benny Goodman's Don't Be That Way, Duke Ellington's It Don't Mean A Thing, Oscar Peterson, Fats Waller and a little Gershwin too.
The six-piece jazz band will include Ben Lerner (Alto Saxophone), Andrew Robertson (Tenor Saxophone), Ray Cassar (Trumpet), Rhys Moore (Trombone), Brendan Clarke (Double Bass) and Tim Geldens (Drums).
Cast & Creatives
Simon Tedeschi / Piano
George Washingmachine / Jazz Violin and Vocals
Ben Lerner / Alto Saxophone
Andrew Robertson / Tenor Saxophone
Ray Cassar / Trumpet
Rhys Moore / Trombone
Brendan Clarke / Double Bass
Tim Geldens / Drums
Saturday 22 July 2023 at 2pm
Please Note: Due to unforeseen circumstances the 7:30pm concert has been cancelled. Ticket holders will be contacted by Box Office soon to organise a ticket exchange, refund or credit.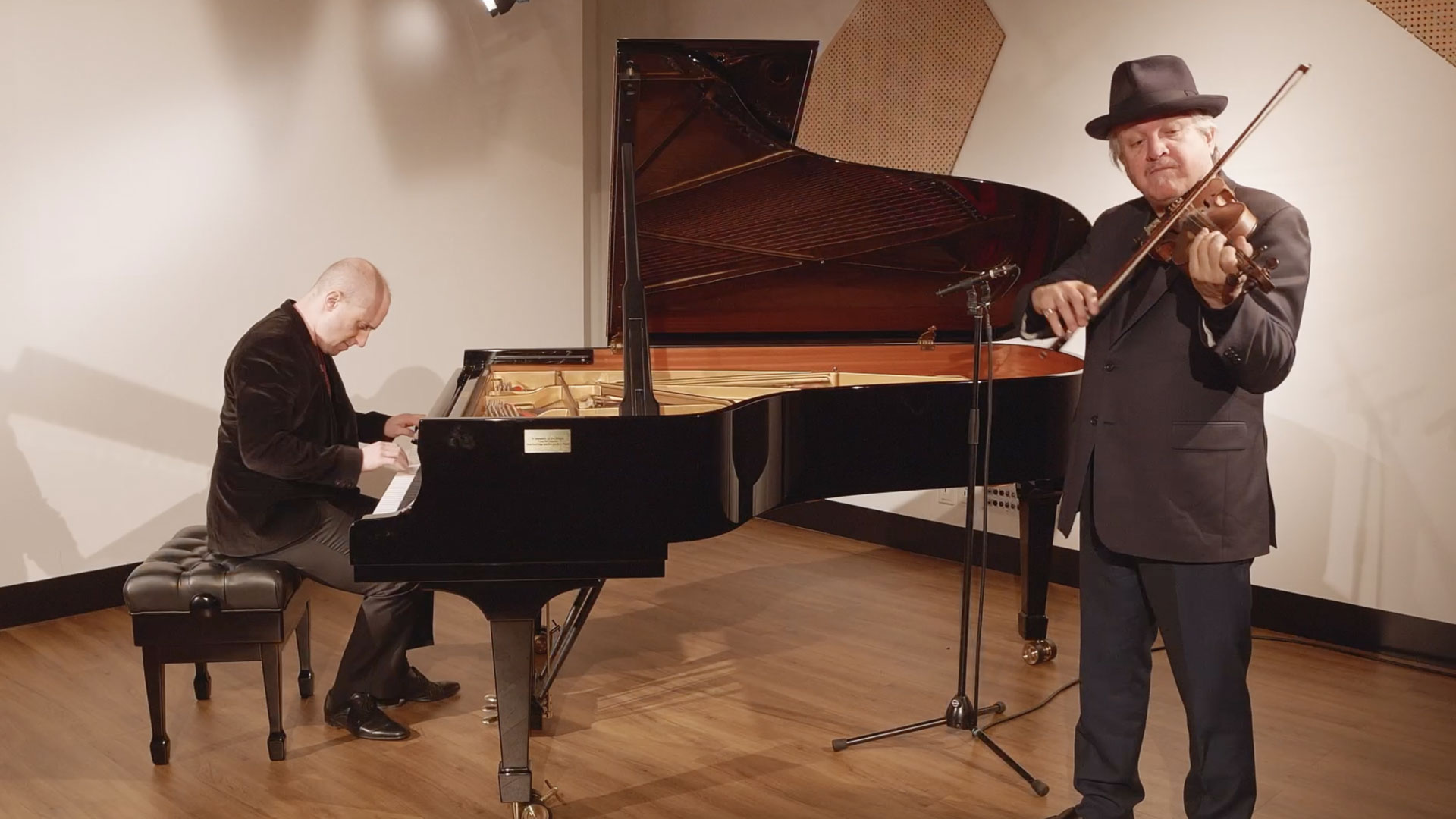 Play
---
Simon Tedeschi - Piano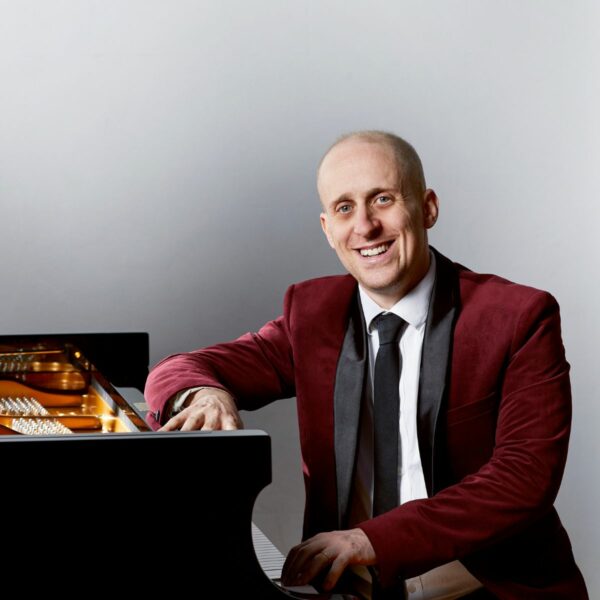 Simon Tedeschi is one of Australia's most renowned classical pianists. Recipient of the Young Performer of the Year Award, the Creativity Foundation's Legacy Award (USA), the New York Young Jewish Pianist Award and a Centenary of Federation Medal, he has performed for audiences, royalty and world leaders worldwide, from the Sydney Opera House to Carnegie Hall. Acclaimed by respected critics and peers as "true greatness" (SMH), Simon performed his first Mozart piano concerto in the Sydney Opera House aged nine, later studying and performing in the USA. Since returning in 2009, he regularly performs as soloist with all the major Australian symphony orchestras, and tours nationally for festivals, venues and presenters including Musica Viva Australia. Uncommonly for a classical pianist, Tedeschi also dabbles in jazz, and has co-written and toured internationally the Sydney Opera House' Meeting Mozart children's show (produced by CDP), and a number of shows combining words and music, for Monkey Baa Theatre, and with Australian theatre icon, John Bell AO OBE.
2023 engagements include as piano soloist with the Sydney Symphony Orchestra, and New Zealand Symphony Orchestra; festival appearances with John Bell, and jazz vocalist/violinist George Washingmachine at Blackheath Chamber Music Festival and Woodend Winter Arts Festival; a fundraising performance for Médecins Sans Frontières and concerts at Sydney Town Hall, the Concourse with Sonus Quartet, and Canberra's Snow Concert Hall.
With numerous recordings for ABC Classics/Universal Music, including The Gershwin Collection, Mussorgsky's Pictures at an Exhibition, R. Strauss' Enoch Arden, and concerti by Mozart, Tchaikovsky and Grieg, Simon's latest album for ABC Classic is Debussy – Ravel with violist and conductor Roger Benedict, with whom he is also creating a new orchestral show for 2024 premiere.
Alongside his performing career, Tedeschi is fast gaining renown as a writer of note, winning the prestigious Calibre Essay Prize for 2022 and Tedeschi's critically acclaimed literary debut, Fugitive (for Upswell Publishing) shortlisted in the 2023 Victorian Premier's Literary Awards. www.simontedeschi.com
George Washingmachine - Jazz Violin and Vocals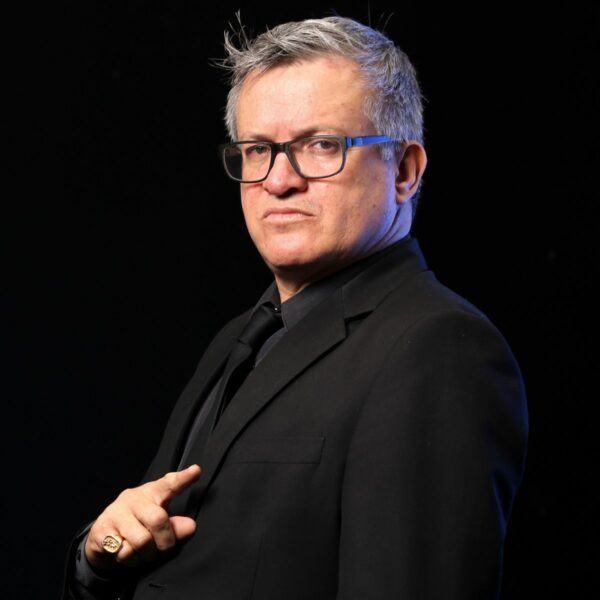 George Washingmachine is an entertainer, working mainly in the jazz world. A jazz violinist and vocalist, he also writes music, and occasionally plays the guitar and double bass.
George has played all of the major festivals around Australia and performs for many corporate clients. He tours regularly in Europe, appearing at festivals in France, Switzerland (Ascona Jazz Festival) and the UK.
In 2015 he toured his group Feel the Manouche to Havana International Jazz Festival (Cuba); he has played Singapore Jazz Festival, and most recently toured across USA from New Orleans to New York and Seattle.
Closer to home, George has performed nationally in The Conductor & The Clown with maestro George Ellis, toured with John Waters in his show, Bob Dylan Revisited and more recently, with classical pianist Simon Tedeschi. George is also a visual artist. www.georgewashingmachine.com
Ben Lerner - Alto Saxophone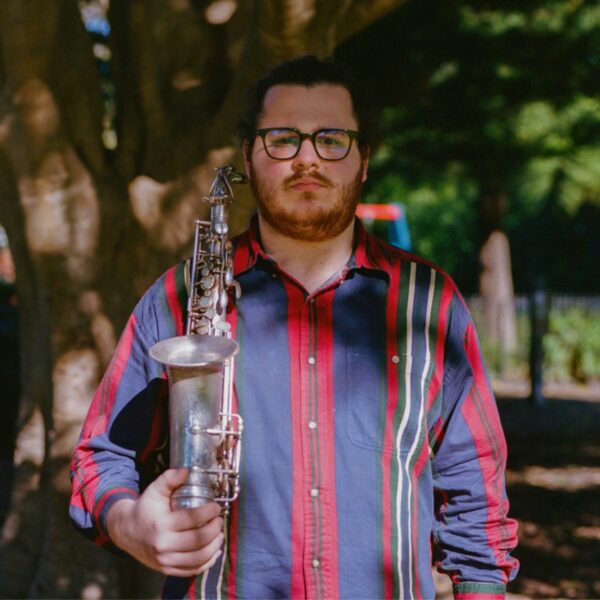 Ben Lerner is an outstanding young artist who has quickly established himself as one of the emerging voices in Jazz and on the Alto Saxophone in Australia. Since moving to Sydney from Auckland in 2020, Ben has received the Sydney Conservatorium of Music Scholarship (Sydney University), and played with the likes of Mike Nock, Steve Barry, Andrew Dickeson and many other greats. Notably, he has been featured in Mike Nock's NOCTET, Quartet, Quintet, and the Steve Barry Quartet. Ben has honed his craft under the tutelage of artists such as George Garzone, Immanuel Wilkins, Roger Manins, Will Vinson, Mike Rivett and more. He performs frequently as a freelancing musician, holds down three residencies, as well as doing regular gigs around the Sydney scene. Ben is also a composer, writing for and performing in his group the Ben Lerner Quartet – which recently toured New Zealand – and he is a curator of the original music series, Monday Night Confessions.
Andrew Robertson - Tenor Saxophone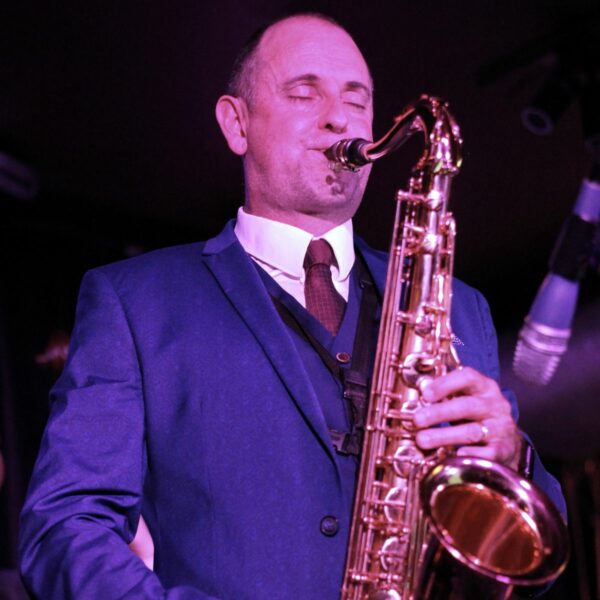 Andrew Robertson is a graduate of Sydney Conservatorium's famed jazz studies degree and enjoys a multi-faceted career as a professional musician, composer/arranger, publisher and educator. He has performed with artists as diverse as Michael Bublé, Boy George, George Benson, Franki Valli, Michael Feinstein, Jerry Lewis, Paloma Faith, Sydney Symphony Orchestra, Wayne Bergeron, Hugh Jackman, and most of the professional major Broadway shows. Andrew has also recorded/arranged many well known jingles for Australian television including Mortein, Woolworths, Commonwealth Bank, Finder.com and Carlton United Breweries. Alongside performing, Andrew has been heavily involved in music education throughout his career.
He is well known as the founder/director of JozzBeat Music Publishing and the Primary school music resources/teaching company "Jellybeans Music" in-schools program which has brought the joy of classroom music to over 25,000 Primary school children across Sydney, Melbourne and New Zealand. Andrew is currently Lecturer in 'Jazz Harmony and Arranging' at the Sydney Conservatorium of Music (2015 –) and Director of the Conservatorium Jazz Orchestra #3. www.andrewrobertson.net
Ray Cassar - Trumpet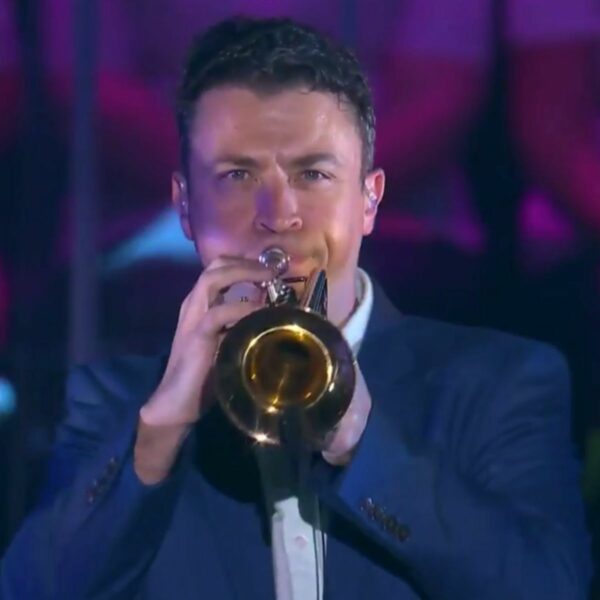 Ray Cassar is widely respected as one of Sydney's most versatile trumpet players. He regularly performs at major concert venues around Australia, with ensembles ranging from small jazz combos, to full orchestras and touring international rock bands. Ray often performs on live national television, most recently as lead trumpet with Harry Connick Jr on the 2023 grand final of Australian Idol. He also performed a duet with Vanessa Amorosi live at Carols in the Domain in 2019, and has appeared many times as lead trumpet on The Voice. Ray was fortunate to tour with The Eagles in 2019 as a part of their World tour, playing in stadiums across Australia and New Zealand.  In contrast, he has also played with James Morrison's big band, and has appeared as a guest jazz trumpet soloist with the Adelaide Symphony Orchestra, not to mention countless local artists along the way. Ray is thrilled to perform alongside Simon Tedeschi and George Washingmachine in this series of concerts. www.raycassar.com
Rhys Moore - Trombone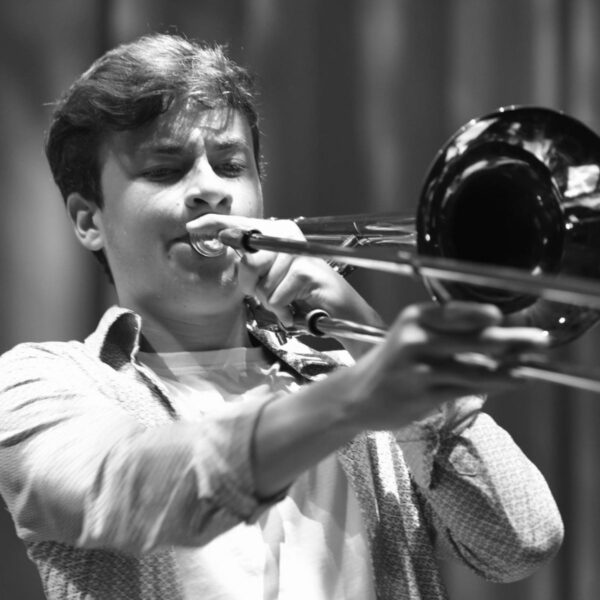 Rhys Moore is a dynamic, young musical artist who lives in Sydney and is currently in Year 11 at Newtown High School of the Performing Arts. He began classical trombone studies at age 8 and quickly developed a passion for jazz and the inspiring performing opportunities it offers. Rhys holds the lead trombone chair in the NSW Performing Arts Jazz Orchestra and the Newtown High School Of The Performing Arts Jazz Orchestra and is the bandleader of two ensembles – The Rhys Moore Jazz Trio, and 6-piece funk band The Newts. From street music, to jazz club to the Sydney Opera House, Rhys performs regularly in and around Sydney with a diverse range of professional and student groups.
Brendan Clarke - Double Bass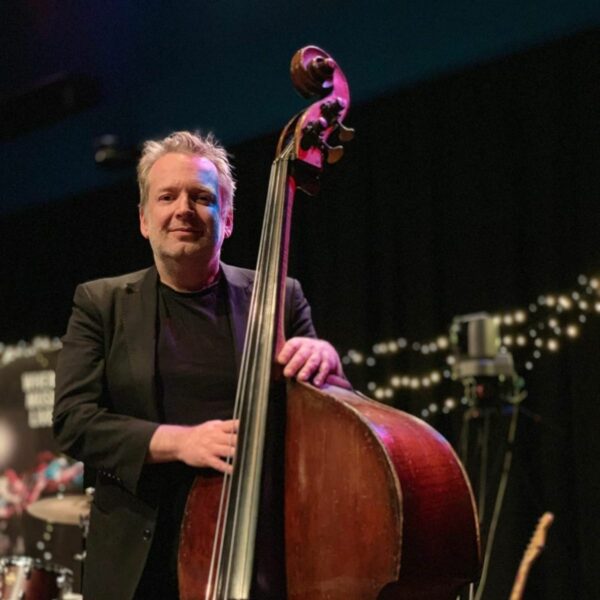 Brendan Clarke is a stalwart of Australian jazz, born in Brisbane and raised in Canberra where he studied jazz bass at the Canberra School of Music. Since relocating to Sydney in 1999 he has become one of the busiest double bassists on the jazz scene and is known for his sublime sense of swing, commanding sound, groove and musicality on the bass. In 2001 Brendan was the first bass player ever to win the prestigious National Jazz Award at the Wangaratta Jazz Festival. Since then Brendan has played bass on over 80 albums as well as released three of his own. He has toured both nationally (appearing at all the major Australian jazz festivals) and internationally with a huge range of jazz artists, including at the Berlin Jazz Festival with the Sandy Evans Trio and Locarno Film Festival with David Blenkhorn; with Chris Potter, Eric Alexander, Joe Chindamo, Vince Jones, James Morrison, Bobby Gebert, Andrew Dickeson, Bernie McGann. Brendan has also represented Australia and performed in the Australian pavilion at World Expo in Japan in 2005 and again in Shanghai, China in 2010 with the George Washingmachine Trio.
Brendan has accompanied many top international and national artists including and is a long standing member of the Jazzgroove Mothership Orchestra. He is equally at home and has shared the stage with a wide range of other well known performers including renowned world music ensemble Mara!, Renee Geyer, Grace Knight, Caroline O'Connor, Glenn Shorrock, Simon Burke and David Campbell. Brendan also leads his own quartet and has recently released his debut album as leader "Stretch" featuring Andrew Gander on drums, guitarist Carl Dewhurst and Murray Jackson on alto saxophone.
Tim Geldens - Drums
Tim Geldens is a musician/drummer based in Sydney, Australia. Tim has performed alongside some of Australia's finest jazz musicians; James Morrison, Dale Barlow, Brendan Clarke, David Panichi, Brett Hurst, Errol Buddle, Matt McMahon, Johnathan Zwartz, John Harkins and Emma Pask, at venues such as Sydney Opera House and Melbourne Recital centre, as well as international Jazz festivals including Konsberg Jazz Festival in Norway, Sydney and Melbourne Jazz Festivals, Tauranga Jazz Festival and Waiheke Island Jazz Festival (New Zealand) and Wangaratta Jazz Festival. Tim is a recent graduate of the Sydney Conservatorium of Music, where he was under the tuition of great Australian drummers Andrew Dickeson and Simon Barker, and other leading jazz musicians. In 2014 Tim was selected to be part of the World JM Jazz Orchestra led by pianist/composer Erlend Skomsvoll, consisting of some of the finest young jazz musicians around the world.  In recent years, Tim has spent some time in New York learning from some of his favourite drummers: Kenny Washington, Pete Van Nosetrand, Kendrick Scott, Michael Carvin, Rodney Green, Greg Hutchinson and Bob Moses.
The Prices and How to Save
Don't miss out on our Early Bird Discount of 10% if you buy before 1 January 2023. 
See more and save! In 2023, we are offering a pick-and-mix package discount of between 10 and 20% depending on how many shows you select.
3 shows – 10% off all tickets
5 shows – 15% of all tickets
8 shows and more – 20% of all tickets
---