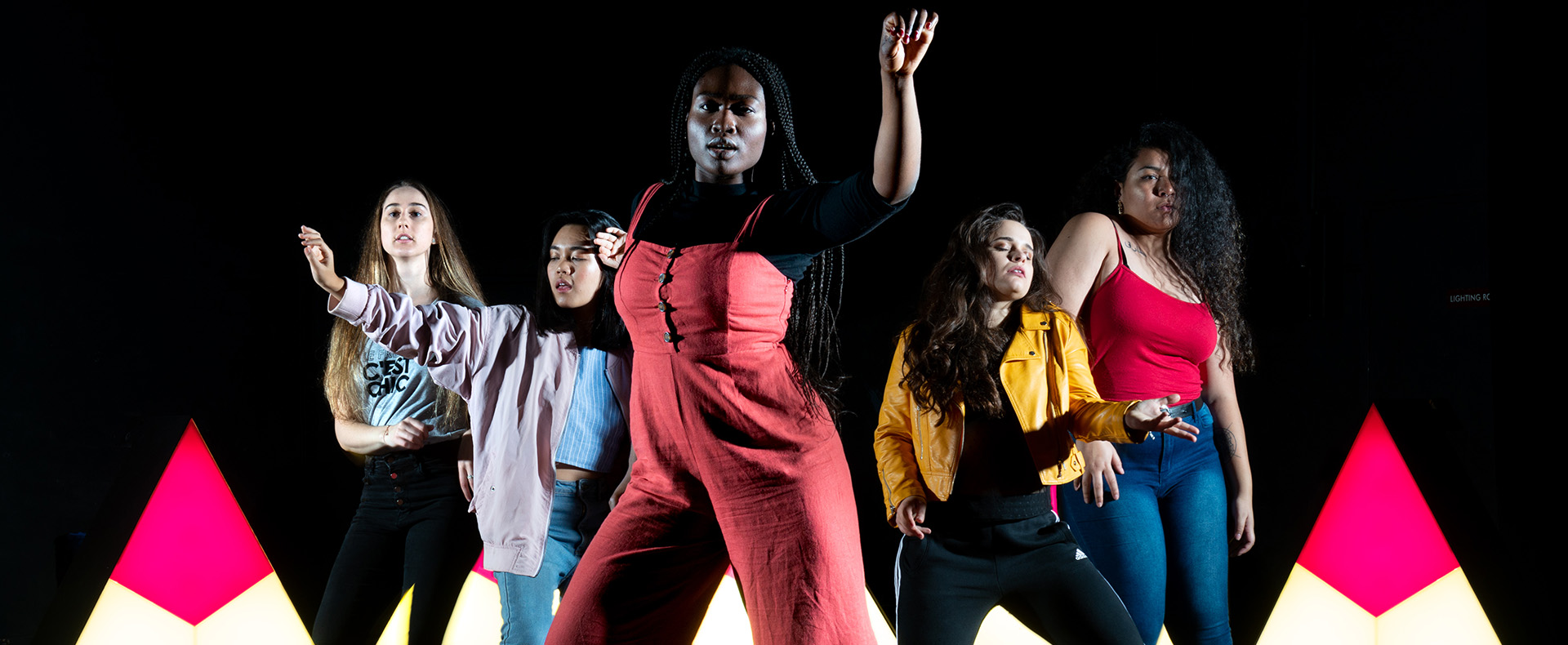 Photo
/ Alex Wisser
Producer
/ PYT Fairfield
PLAYLIST
IMPORTANT UPDATE: Cancellation of Playlist on 27 May 2020
In this rapidly evolving situation as our community faces the threat of the novel Coronavirus (COVID-19) and a slew of events across Australia are cancelled and venues close, we are looking very carefully at our programming and options.
We have decided that it is both responsible and prudent to cancel Playlist on 27 May 2020.
We will offer 3 options for your ticket: to process a refund (which in most cases will be automatically credited to purchasers), you can donate your refund or you can opt to hold your refund in credit for 12 months. We will be sending an email to all ticket holders so you can inform us your preferred option. Please bear with us as we work through our lists.
Five incredible young women talk about their favourite female pop stars and how these narratives inspire and shape their personal worlds in this genre-defying dance theatre work.
The extraordinary cast represent a unique and powerful cross section of emerging artists in contemporary Australia, featuring Ebube Uba, a Nigerian-Australian actor and dancer; Neda Taha, a Tongan-Iraqi-Australian hip hop dancer; May Tran a Vietnamese-Australian slam poet; comedic actor Tasha O'Brien; and Croatian- Australian pop star Mara Knezevic.
Created by PYT Fairfield (Jump First, Ask Later), one of Australia's most celebrated makers of brave and transformative new work that reflects the cultural diversity of contemporary Australia.
Audience info | Ages 14+, coarse language, adult themes, strobe and haze
Cast & Creatives
Karen Therese / DIRECTOR
Larissa McGowan / CHOREOGRAPHER
Zanny Begg / DESIGNER
Jasmine Guffond & Gail Priest / CO-SOUND DESIGNERS
Verity Hampson / LIGHTING DESIGNER
Kate Armstrong-Smith / DRAMATURG
Kilia Tipa / ASSOCIATE ARTIST
"They dance, they share, they speak from the heart. Over the next goddess powered 70 minutes, we will get an insight into what inspires these emergent artists."
Sydney Arts Guide
SUBSCRIBE & SAVE!
Subscribe to a year of creative experiences.
Eight pack – save 15% (and get a free Penrith Arts Lover membership) |
Six pack – save 12% | Four pack – save 10%
Learn More
Wednesday 27 May 10am and Thursday 28 May 10am are school performances
Please be sure to check our Information for Teachers page for details on our venue, location and other practicalities around booking and risk assessment.