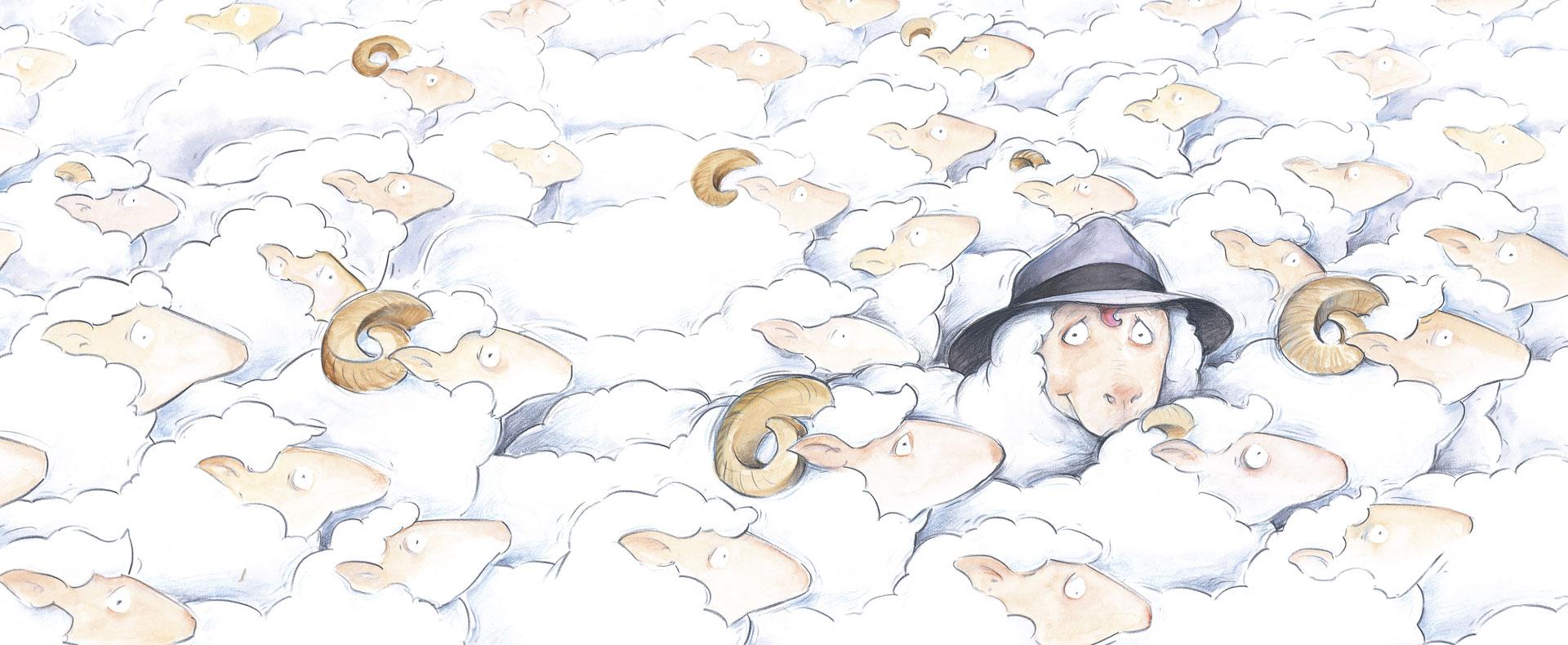 Photo
/ Illustration by Bruce Whatley
Producer
/ A Monkey Baa Theatre Company production
Pete the Sheep
Important Update: Cancellation of Pete the Sheep on 8 & 9 October
Important Update: In line with NSW Health advice, the Joan Sutherland Performing Arts Centre is temporarily closed to the public until at least 11.59pm Thursday 30 September. As a result, taking into consideration possible restrictions that might affect how entertainment venues are permitted to open and operate, including capacity and social distancing requirements; combined with additional factors preventing rehearsing, Pete the Sheep on 8 & 9 October is cancelled.
All ticket holders will be contacted via email with an update and options – please keep an eye on your email inboxes. In this unprecedented situation, our Box Office is fielding a tremendous volume of requests and we are working to be as responsive as possible. We ask that you please wait for us to get in touch, and please bear with us as we work through our lists.
Monkey Baa's baa-rilliant multi award-winning musical comedy based on the classic Australian picture book returns to The Joan for a limited season.
Shaun isn't like the other Shearers in Shaggy Gully…he'd rather be styling than shearing and instead of 'sheep-dog', he has a 'sheep-sheep' named Pete. After being rejected by the shearers and their dogs, Shaun and Pete set up their own Shearing Salon in town and before long word is out and they are inundated with woolly clients and maybe a Ringer or two!
This hilarious show, imaginatively told by four performers playing shearers, dogs and sheep explores the challenges and rewards of being an individual and will be a lasting tribute to honouring your own spirit and strength, whilst working with the flock.
Tickets will sell fast – Herd your flock together and book now.
General Public: Suitable for ages 4 – 9 and their families
Schools: Suitable for Preschool and Years K – 4
Accessible Performance: A Relaxed Performance of Pete the Sheep will be held on Saturday 9 October at 10am. Please refer to the 'Accessible Performances' section below for more information
We strongly recommend all staff and visitors (12 years and older) wear masks inside The Joan.
Cast & Creatives
Jonathan Biggins / Director
Eva Di Cesare / Assistant Director
Phil Scott / Composer and Lyricist
James Browne / Set and Costume Designer
Matthew Marshall / Lighting Designer
Sandie Eldridge, Tim McGarry and Eva Di Cesare / Writing Team
Joe Dinn / Big Bob, Brute and Sheep
Andrew James / Ratso, Tiny and Sheep
Joe Kalou / Pete, Bungo and Sheep
Oliver Lacey / Shaun, Fang and Sheep
School Bookings and Resources
Schools Performances
Pete the Sheep is recommended for Preschool and Years K – 4 (Early Stage 1 – Stage 2). The dedicated schools performances for this production are:
Friday 8 October 2021 at 10am and 12:30pm*
*Please Note: The update to the second performance of Pete the Sheep on Friday to 12:30pm
Duration
50 minutes (No interval plus a 15-minute Q&A following weekday performances)
Schools Booking Form
To book this production for your school, please click here and complete our Schools Booking Form.
More Information
Click here to visit our 'Information for School Groups' page to download a copy of our current Risk Assessment and find out more about our venue, getting here, accessibility, education resources and the booking process.
Enquiries
To discuss schools bookings further, please contact Box Office on (02) 4723 7600 or boxoffice@penrith.city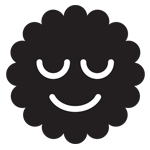 Relaxed Performance and Social Story
The Relaxed Performance for Pete the Sheep is on:
Saturday 9 October at 10am
Stay Tuned – A Social Story for Pete the Sheep will be available soon!
About Relaxed Performance and Social Stories
Relaxed performances are designed to reduce anxiety and create a supportive atmosphere for patrons with autism spectrum conditions, learning disability and sensory and communication needs.
Modifications will differ depending on the show, but can include:
The theatre doors being left open allowing audience members to enter and exit as needed throughout the show;
The house lights being dimmed, but not turned all the way down; and
Noise and movement and light and sound effects being toned down or removed.
Social stories use pictures and words to introduce students to what they can expect during their excursion to their excursion at the theatre. They tell the story of your journey at the theatre from arrival to the end of the performance, offering positive options to help with fears and triggers such as loud noises.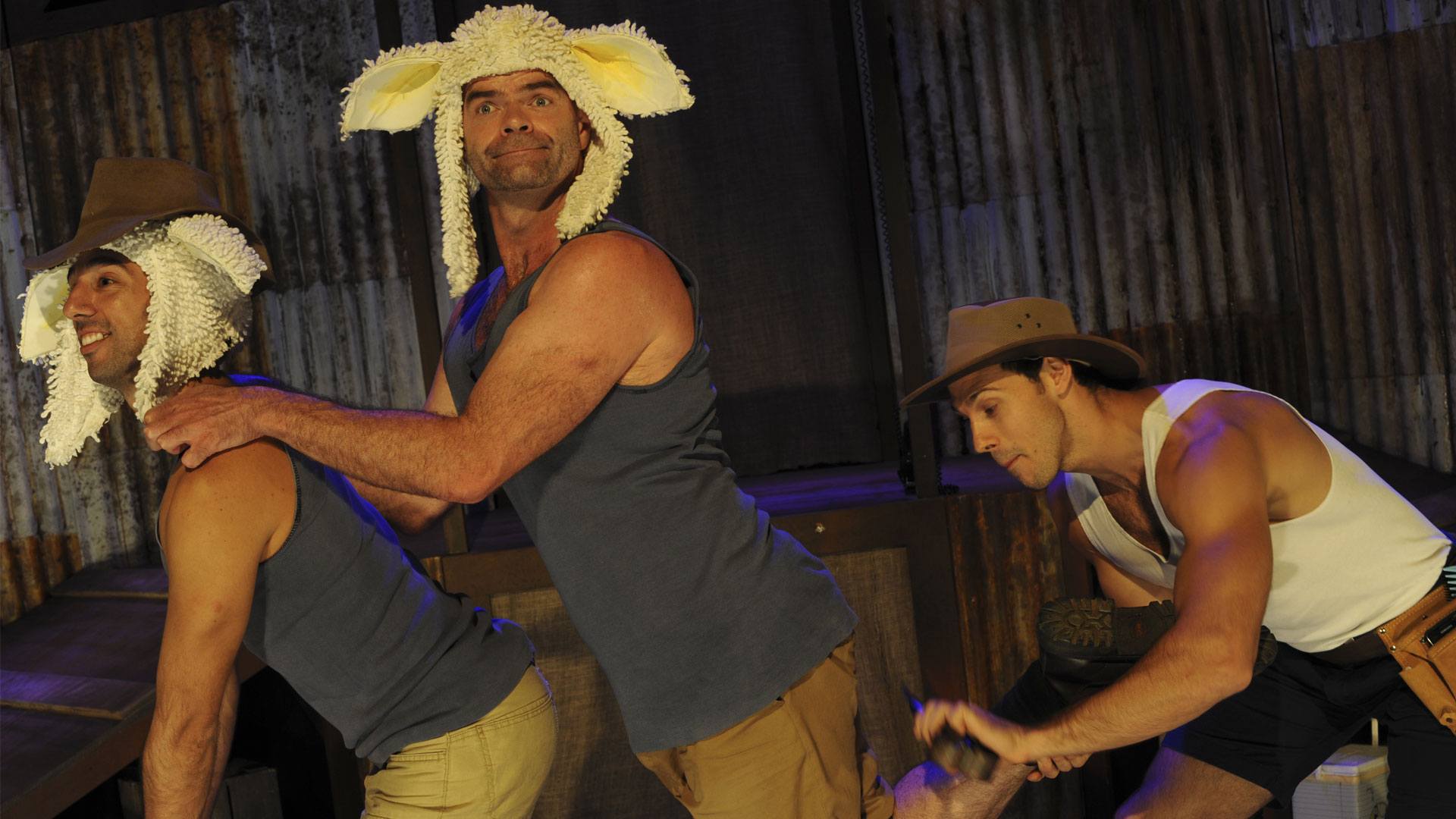 Play
"Monkey Baa's take on 'Pete the Sheep' is a funny and engaging treat that goes beyond simply putting a picture-book favourite on the stage. There's a chance that it will provide stimulus for real conversations about language and theatre and difference. And challenging the herd mentality." – Sydney Morning Herald
"French's characters, and Bruce Whatley's expressive illustrations of them, have been cunningly adapted for the stage by Eva De Cesare, Tim McGarry and Sandra Eldridge with foot-tapping music and funny lyrics created by the multi-talented Phil Scott. Add to this the much experienced and comedic imagination of Jonathan Biggins as director, and you can predict that there will be good theatre – as well as pace and wit and fun." – Stage Whispers
"A truly Aussie tale–delightful, funny, iconic, warm and hilariously Ocker, from the lingo to the names to the shearers' bluesinglets…" – Kids Book Review
A COVID-19 Safety Message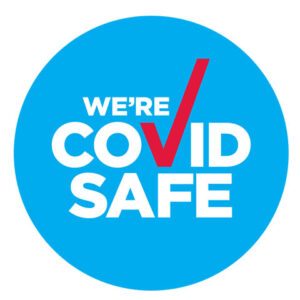 The Joan is a registered COVID Safe venue and is following strict NSW Government guidelines and expert public health advice. Your health and safety is our priority.
Please click here to view our full COVID Safe Plan and our new ticketing Terms and Conditions.
Please note safety measures may change. We regularly update our processes based on the latest government advice.
In accordance with the recent update to NSW Health regulations, The Joan is operating at 100% capacity from 29 March 2021.
There will be no vacant seats between bookings in seated indoor venues for all events at The Joan from 29 March 2021.
It is the responsibility of every individual to help stop the spread of COVID-19. If you have experienced cold or flu-like symptoms in the last 14 days, have a temperature and/or been in contact with a confirmed case of COVID-19, it is our right to refuse you entry into our venue. The health and safety of our patrons and staff is extremely important to us. Please contact us before your event if any of the above applies to you.
We strongly recommend all staff and visitors (12 years and older) wear masks inside The Joan.
For more information on how you can help us keep our community safe, please click here.