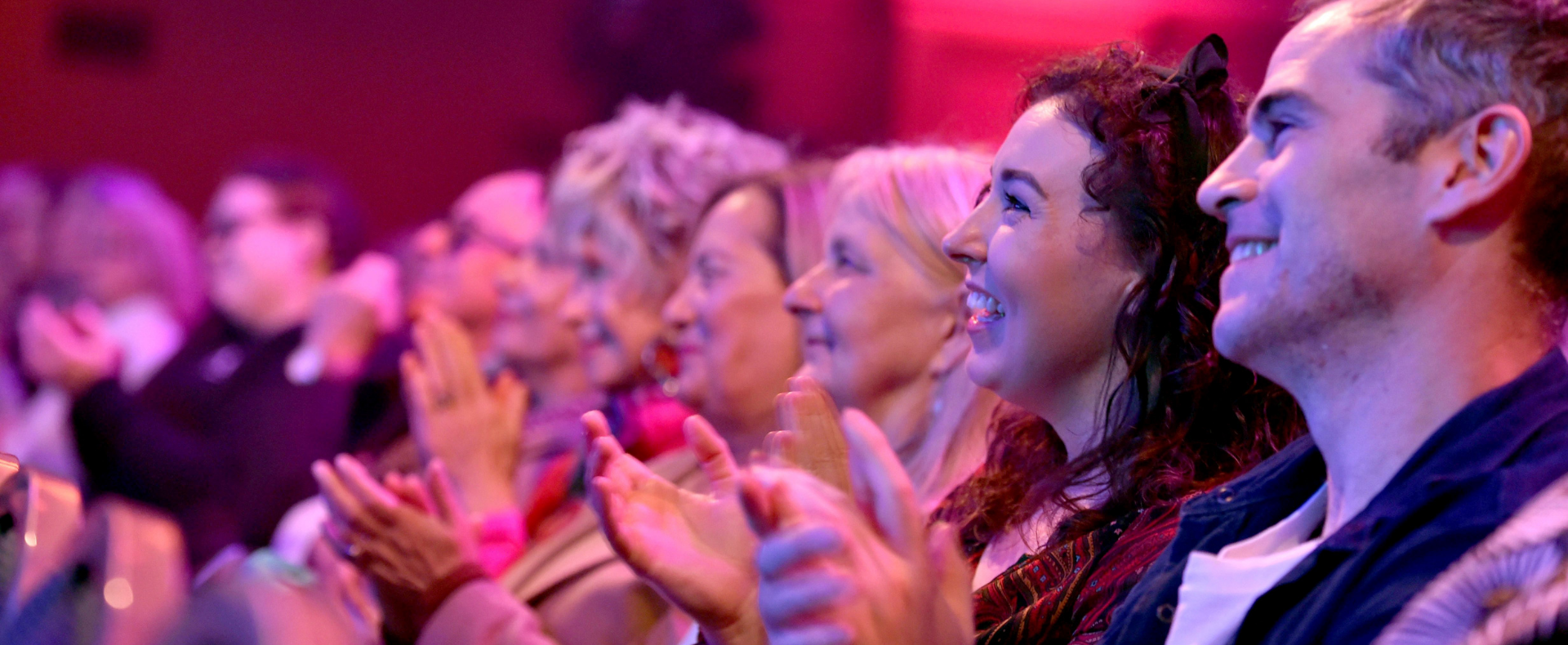 Photo
/ Jim Lee
Producer
/ Melbourne International
Melbourne International Comedy Festival Roadshow
The ultimate comedy road trip returns in 2022!
Strap yourself in Penrith! The Melbourne International Comedy Festival Roadshow is hitting the highways to home-deliver the freshest and funniest from the 2022 Festival to our neighbourhood. For 24 years the Roadshow has presented an all killer, no filler line-up of Australian stars and talented newcomers to comedy fans far and wide. Buckle up for a night of stand-up, sketch, satire, silliness and song in this rip-roaring road trip designed to satisfy all your post-pandemic comedy cravings!
Starring Brett Blake (MC), Blake Freeman, Bronwyn Kuss, Frankie McNair and Lewis Garnham.
ABOUT THE COMEDIANS
Brett Blake (MC) – Brett is a self-proclaimed bogan genius with a mullet to prove it! He is a whip-smart, high-spirited stand up who has performed widely across Australia and the UK. A regular sell-out at the Melbourne International Comedy and Edinburgh Fringe Festivals, Brett also starred on Common Sense for Network 10, has a hand in Melbourne's Comedy at Coopers Inn, is a regular visitor to The Little Dum Dum Club, shared the reins on Worst First Dates podcast with Kelly Fastuca and currently co-hosts the bonkers double-dare fiesta that is Flat Stick with Nick Capper.
Blake Freeman – Blake is one of Australia's brightest new comedians, with his own brand of energetic and disarmingly honest comedy, making the intensely personal relatable. In 2018 he was hand -picked for Melbourne International Comedy Festival's prestigious Comedy Zone and appeared on ABC TV's Comedy Up Late series, toured nationally and hosted his own radio show. He won the 2019 Melbourne International Comedy Festival's 'Best Newcomer' award, had a selI-out season at Brisbane and Sydney Comedy Festivals, and went to Soho Theatre in London's West End.
Frankie McNair – Frankie is an aggressively optimistic dyslexic queer nightmare who was raised by TV and is trying their best. This comedy gremlin recently won "Best Newcomer" at the 2022 Melbourne International Comedy Festival with their unique and grubby mix of stand-up, non sequitur sketch comedy and queer vibes (*chef's kiss*). They've sold out around the country and made a mark on the alternative comedy scene with their critically acclaimed show Emma's Debutante and a sold out season at the 2021 Melbourne International Comedy Festival.
Bronwyn Kuss – Bronwyn specialises in giving extremely dry recounts of everyday tragedies to astonishing comedic effect. Her debut solo show Any Goss saw her win the 2022 Melbourne International Comedy Festival's Director's Choice Award. She was also nominated for the prestigious Best Newcomer Award. Bronwyn has performed support for Mel Buttle, written for BBC Radio 4 Extra's Newsjack, attended the United Citizens Brigade in New York, and appeared on ABC Radio Sunday Afternoons & Triple R's Breakfasters.
Lewis Garnham – Lewis has been captivating audiences around the country with a style that is a potent combination of laconic, intelligent, and introspective. His 2018 breakout show The Smartest Idiot You'll Ever Meet was nominated for Best Comedy at Perth Fringe World and the prestigious Best Newcomer Award at the Melbourne Comedy Festival. Lewis returned in 2019 with You Can't Always Get What You Want, that regularly played to sold out houses, and The Worst Train I've Ever Built at the 2020 Adelaide Fringe. He's also been on SBS TV, Triple J, ABC Radio and Triple M.
Audience Info | Recommended for people aged 15 years and older. Contains course language, adult themes, sexual references and material that may offend. Smoke machine/hazer may be used during this performance.