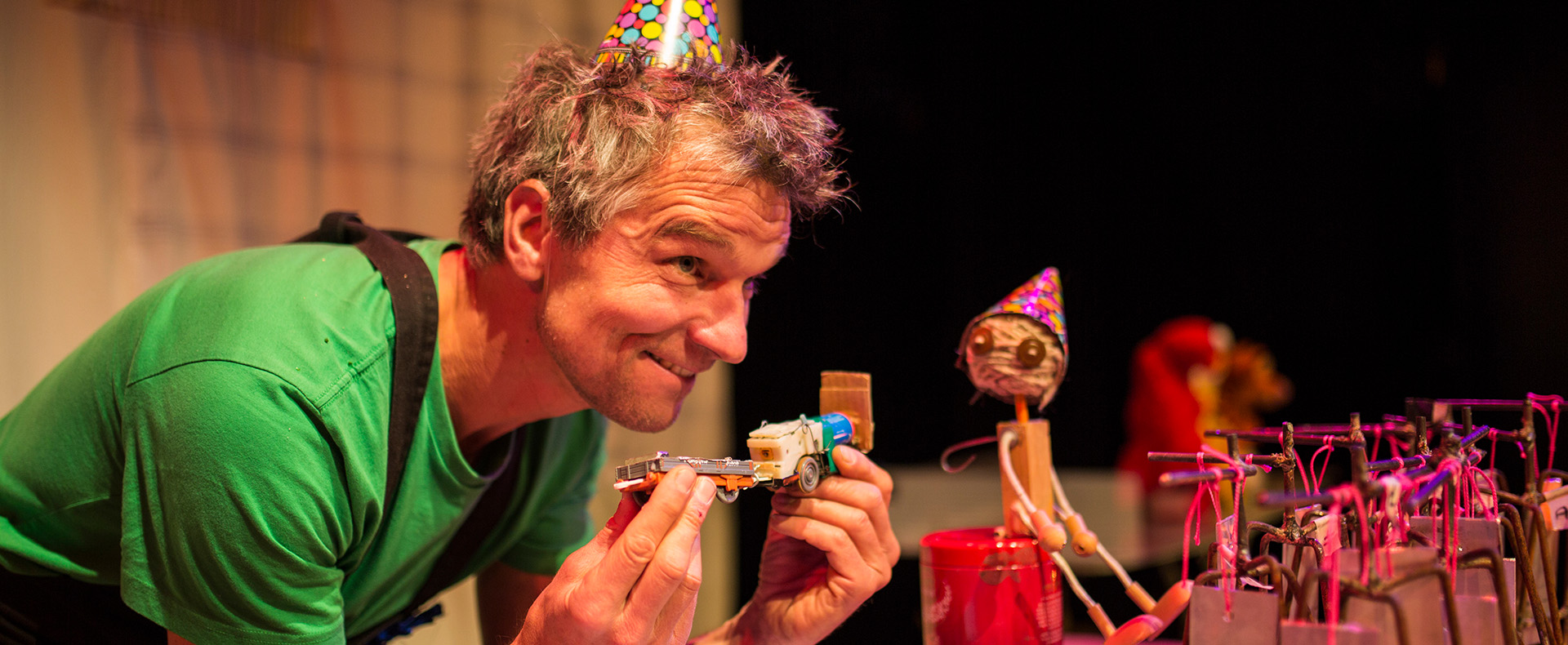 LOOSE ENDS
IMPORTANT UPDATE: Cancellation of Loose Ends on 2 - 3 October 2020
Following the current rules and guidelines from the Australian Government restricting the manner in which entertainment venues are permitted to open and operate, including capacity and social distancing requirements; combined with border closures and additional factors preventing companies touring and rehearsing, this event will not be proceeding. 
Hence, Loose Ends on 2 – 3 October 2020 is cancelled. We will offer 3 options for your ticket: to process a refund (which in most cases will be automatically credited to purchasers), you can donate your refund or you can opt to hold your refund in credit for 12 months. We will be sending an email to all ticket holders so you can inform us your preferred option. Please bear with us as we work through our lists.
Out-of-the-Ordinary Visual Theatre set in a Wondrous Tinkering Heaven.
Makers, creators and story lovers; dive into a theatrical adventure that feels like the magic box of a bygone trickster!
Journey to an eccentric place where gadgets are poetic, puppets naughty, machines untamed and circus tricks pop up when you're least expecting it! This is a world where music appears from lemons, carrots and bunny's bums, monsters go crazy and birthday parties are ferociously celebrated.
Loose Ends is the story of a man who thinks he can organise all his life in boxes, and has a knack for getting into mischief. Can this tinkerer learn enough about real friendship to keep him out of trouble?
This breathtaking show is highly visual, emotional and unpredictable. It makes inventions and machines fun and adds a few quirky edges to puppetry.
Audience info | Ages 5 – 12
WORKSHOPS (60 minutes) – BONUS SCHOOL HOLIDAY FUN!
Thursday 1 October 11am & 1pm
Science, fun and construction go hand-in-hand in this fascinating workshop – the perfect school holiday activity for inquisitive minds!
After a short introduction to the functioning of contraptions and into the world of chain- reactions, participants will build a room sized domino-like mechanism out of recycled materials. Equipped with a building sheet, participants will start transforming a pile of apparent random stuff into a working component of the whole machine in a process of creative thinking, tinkering and experimentation.
Once all assembled and connected, participants learn to preset their part, eliminate mistakes and explain the functioning of their section to others. After that, off we go! Once triggered, there is no stopping the chain-reaction (at least in a perfect world) until the big final surprise: it ends as a Wacky Lolly Shooting Machine!
This workshop is suitable for ages 8 – 12 years, spaces are strictly limited and bookings are essential. Scroll down the page to book!
Cast & Creatives
Jens Altheimer / DEVISED AND PERFORMED BY
WORKSHOPS (BONUS SCHOOL HOLIDAY FUN!)
Be part of a 60-minute workshop prior to the performance on Thursday 1 October 11am & 1pm where you will get to journey further to an eccentric place!
BOOK NOW
---
SUBSCRIBE & SAVE!
Subscribe to a year of creative experiences.
Eight pack – save 15% (and get a free Penrith Arts Lover membership) |
Six pack – save 12% | Four pack – save 10%
Learn More