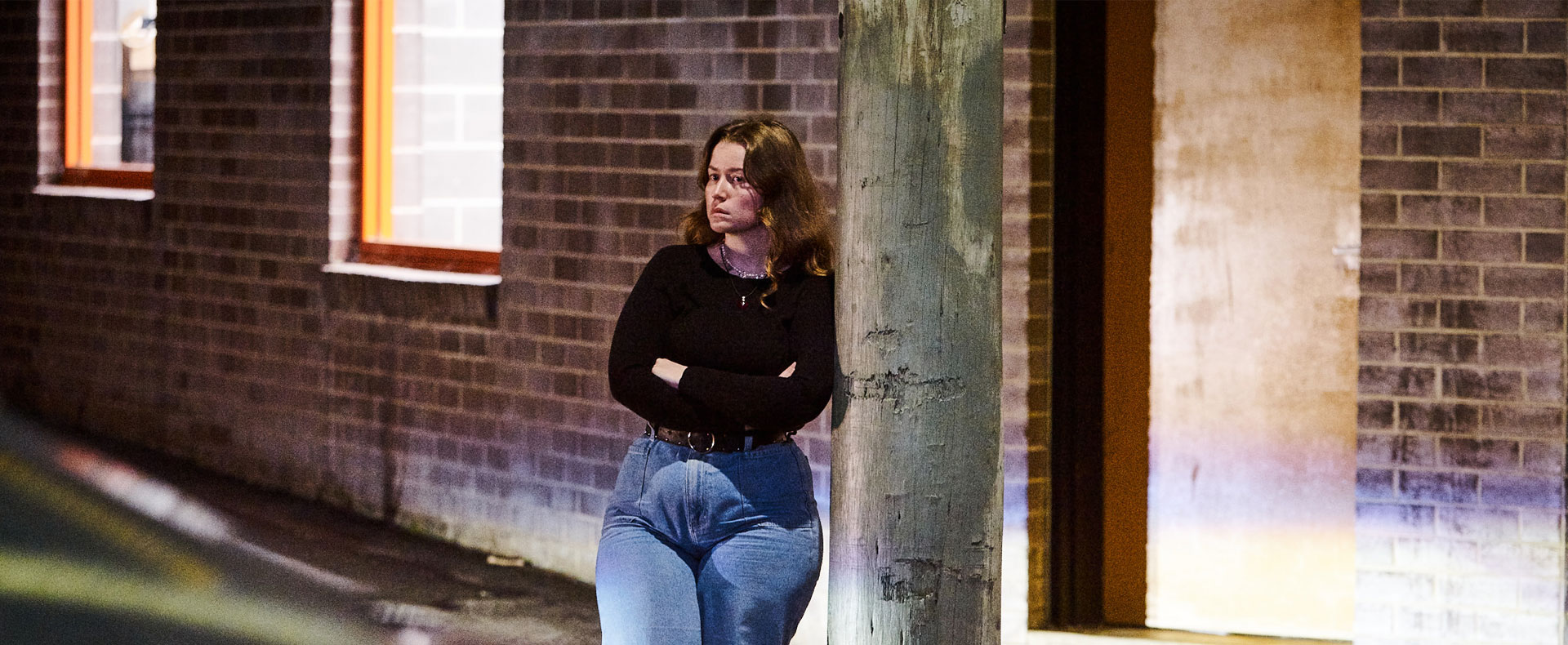 Photo
/ Joshua Morris
Producer
/ Shopfront Arts Co-Op and Q Theatre
CURBSQUATTERS
ArtsLab Western and North West Sydney
Our story begins in a nightclub, our story ends in a nightclub, but this show isn't really about a nightclub.
CURBSQUATTERS is a fresh new work written and directed by Irelish Barker. A somewhat auto-biographical story, CURBSQUATTERS explores the trials and tribulations of clubbing culture amongst young people. It is a collection of conversations and moments, set on the street outside of a popular nightclub. Join this group of bold characters they navigate relationships, arguments and trepidation; as they discuss their thoughts and share their experiences regarding love, lust, regret, and harassment.
Watch to see who in this motley crew ends the night on a high, and who will be sinking in their glass come midnight.
---
Audience Information
Suitable for ages 15+. This production contains references to assault, sexual references, references to violence, drug use, course language, toxic masculinity and drunk people.
---
Tickets
PURCHASE A SEASON PASS AND SAVE
A season pass includes entry to all three of the ArtsLab Western and North West Sydney shows including Red Soup, CURBSQUATTERS and Sensations of Maintenance, as well as the One Self over the Crismon Nest (ArtsLab Gallery).
SINGLE TICKETS
Single tickets are also available to each show and include entry to One Self over the Crismon Nest (ArtsLab Gallery).
---
Location
Joan Sutherland Performing Arts Centre, 597 High Street, Penrith – Click here to view a map
Thursday 9 November at 7:15pm
Friday 10 November at 7:15pm
Saturday 11 November at 3:15pm
Irelish Barker (She/Her) is an emerging actor, writer and theatre maker living and creating on unceded Dharawal country. Irelish completed her Bachelors in Performance at the University of Wollongong in 2021.
Since graduating she has explored her passion for script writing and theatre making through her own independent works. She wrote for and performed in Feral Women (2022) which was written and devised in collaboration with Crush Collective Arts, funded by the Wollongong Council. She had an excerpt of her debut script CURBSQUATTERS performed at MerrigongX's Made From Scratch in March and most recently has been working with the Dire Theatre Company.
Irelish is passionate about uplifting female presenting and young peoples voices in theatre. Her script CURBSQUATTERS explores the trials, tribulations and connections we make with others on a night out.
Irelish has been mentored by Emma Saunders.