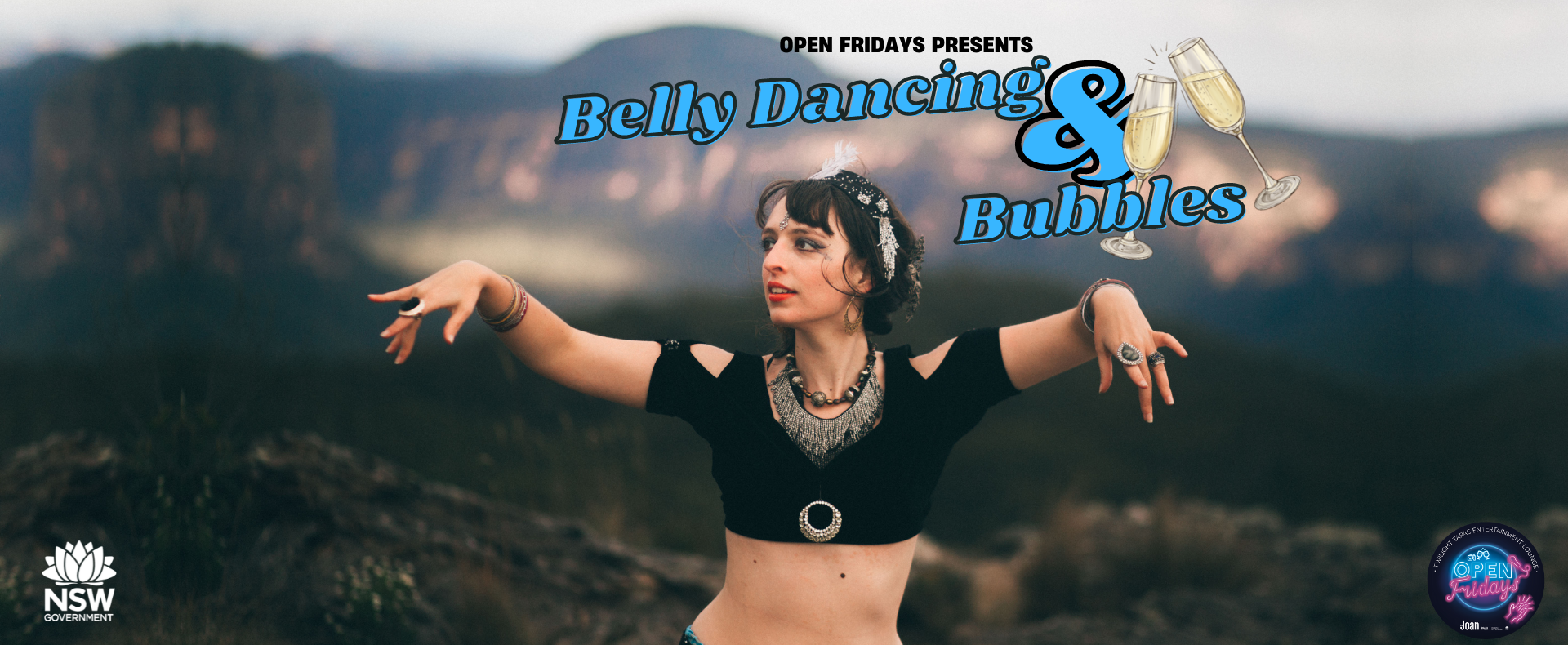 Belly Dancing and Bubbles
Open Fridays
Get ready to move your hips, have fun and learn about belly dance! Join Velvetina and Jessyka in The Joan's Borland Lounge at this exciting Open Fridays' event as they introduce you to this beautiful style of dance.
Learn about traditional, fusion and ATS bellydance styles and the history of belly dance while you shake your hips and have plenty of fun in the process!
Please wear comfortable clothes that you can move in and feel free to tie a scarf of coin belt around your hips if you have one! LGBTIQA+, BIPOC and dancers of all abilities are welcome at this introductory class.
Shake your hips and then wet your lips! The ticket price includes a fabulous class and a rewarding glass of bubbles at the end!
About Velvetina
Born and raised in the beautiful Blue Mountains, Velvetina was attracted to glamour, beauty and movement from an early age. After an inspiring performance at 5 years old as 'Nina Ballerina', she was told by doctors her ankles were not up to dancing. After years of self-doubt and insecurity she was re-inspired at the age of 15 by local dance icon Devi Mamak and the world of Bellydance, to overcome these issues and dance again.
On the journey towards earning her accreditation in ATS Teacher Training (now Fat Chance Belly Dance style) she took forays into Cuban Salsa, Indian Fusion and Flamenco to broaden her dancing horizons. Over the years she has been lucky to learn from local and international teachers in the many forms of belly dance. She also took an inspiring workshop tour of Italy, her ancestral homeland, learning from many international Fusion Bellydance teachers she had idolised for years.
Velvetina has a passion for teaching young dancers body positivity through the art of dance. Under the guidance of Porcelain she is furthering her dance studies with The Stone Cold Foxes in Burlesque, Jazz and Feather Fan Dancing and is currently undertaking her Asia Pacific Dance Association Jazz Teacher Training.
About Jessyka
Based in the beautiful Blue Mountains in Sydney, Australia, Jessyka has been dancing for years and is a qualified Bellydance, Yoga and Trauma Conscious Yoga instructor. She's always loved dance, and came to gothic fusion after a long journey through swing, Latin, rock n roll, ballroom, burlesque, MEHNAT bellydance, ATS and fusion at last! She has been lucky enough to take classes with Devi Mamak, Deb Rubin, Valenteena Ianni, Rachael Redfern, Ariellah, Mardi Love and more.
Jessyka loves teaching bellydance and being a teacher of Trauma Conscious Yoga specifically, which blends amazingly with her past 7 years of psychology and day job in domestic violence. Jessyka adores bellydance because it is how her body intuitively wants to move, and she loves challenging herself and constantly increasing her knowledge. Jessyka comes from a psychology background and loves to teach all dance from a mind and body perspective.
Jessyka has performed around NSW at bellydance and cabaret events and on stage live with bands and internationally and has just returned from performing in the esteemed Gothla in the UK.
Open Fridays is supported by the NSW Government as part of the Culture Up Late: Western Sydney program via Create NSW.