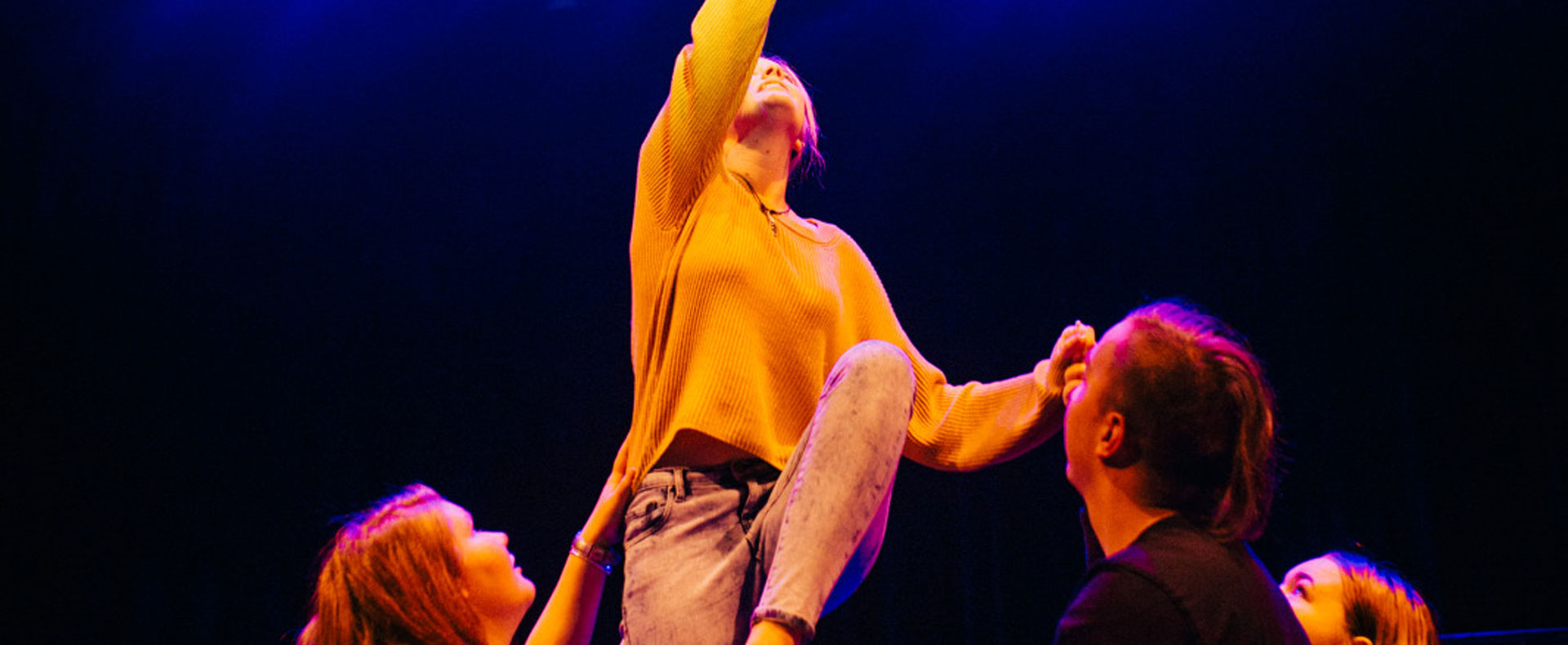 Mother: Annual Youth Theatre Festival (AYTF) 2019
The Annual Youth Theatre Festival (AYTF) 2019 continues to champion and celebrate school engagement with professional theatre-making at Q Theatre
I see her sitting on the bank of what once was a roaring river the iridescent lustre of the moonbeam lulling the mighty waves to a gentle rest.
I see her sitting on the bank of what once was a roaring river now a guiltless gully.
I hear her the thundering gales of her heart barking at every limb, every muscle to just stand up towards her battlements – but she hushes them murmurs words of comfort ease.
I hear her the thundering gales of her heart quietening to a silent protest…
"You must have been provider, nurturer, life-giver, fighter, leader, healer –
"You must have been wiyanga, majka, omm, mäe, moeder, tina, okaasan, ahm, ina, maji, induk, madre, me, mataji, mana, ammee."
"I was" she says as she pockets the stray strands of a plastic bag at her feet,
"I still can be."
The Annual Youth Theatre Festival (AYTF) 2019 allows students to explore and find joy in all aspects of theatre production. Previous AYTF productions have included The Tower and Decoded.
Eight schools come together to respond to a provocation from which they will select a performance style and create a 10 minute performance. Over a six week period, student groups are paired with a  professional theatre artist to direct and guide performance development, rehearsal and the finale — their performance on the Q Theatre stage.
For over 25 years Q Theatre has invited students to gain direct experience working in a professional theatre-making environment, providing pathways for many into theatre careers right  here in Penrith. AYTF 2019 continues this tradition.
TO BE IN THE AUDIENCE Students from Years 9–12 can also participate as audience members. Students will get insight into different theatrical styles as well as support their peers on stage from their own school and from schools throughout the region. The performance on 28 June 2019 will spark creativity and discussion points for the classroom around the themes and ideas presented.
CLICK HERE TO DOWNLOAD SCHOOLS BOOKING FORM
CLICK HERE TO PURCHASE TICKETS TO THE EVENING PERFORMANCE
PLEASE NOTE: This year's performance will contain strobe lighting and haze effects.
TO BE A CREATOR AYTF gives high school drama students the opportunity to explore different  theatrical styles, and work with industry professionals including writers, directors, actors and technicians, as together they create an original performance 8–12 minutes in length. Applications have now closed for AYTF 2019.
The Creator school groups confirmed for Mother, AYTF 2019: 
Blue Mountains Grammar School
Cambridge Park High School
Glenmore Park High School
Kingswood High School
Nepean Creative & Performing Arts High School
Penrith Selective High School
Springwood High School
Wycliffe Christian School
DOWNLOAD THE AYTF 2019 INFORMATION PACK HERE
Please contact Ian Zammit with any questions on 02 4723 7606 or ian.zammit@penrith.city