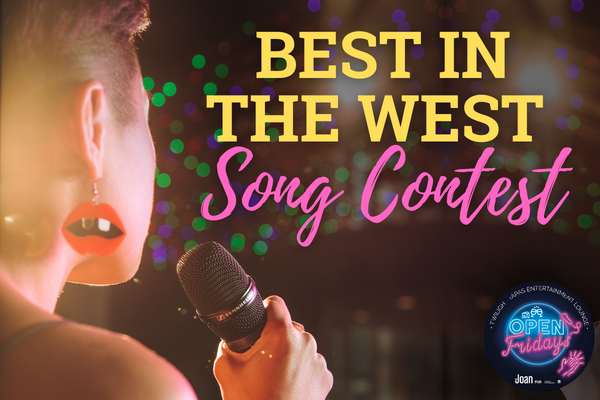 What is Best in the West?
Best in the West is The Joan's new singer-songwriter competition hosted by Open Fridays.
We know that there are some highly talented writers and musicians in our area, and we want to give them an opportunity to develop their skills, demonstrate their ability, and showcase fantastic lyricists in the region. Plus, we're also giving away a prize pack valued at $2500 to one lucky winner!
Scroll down for more information and submit an Expression of Interest via the form below now! Applications close 10 March.
Format
The contest will be held on one Friday every month from March to June with five different performers every session. The best song from each round as voted by the audience will progress to the Grand Final where a panel of judges and industry professionals will decide which song is the Best in the West!
Requirements
An original song written and performed by you live.
Ability to perform the song on one of the dates below and at the Grand Final if successful in your round.
If you are the overall winner, you will need to be able to perform a set of 40 minutes – 1 hour with a mixture of your originals and covers on an agreed date.
Prize Package (Valued at $2500)
A $1000 artist contract
A featured Live and Local performance at Open Fridays
12 hours worth of rehearsal space at The Joan
A stage coaching session
A specialised marketing package
Professional photography and video footage
Consultation with Brightside Music
Dates (5pm – 8pm)
ROUND 1: 17 March 2023
ROUND 2: 28 April 2023
ROUND 3: 26 May 2023
ROUND 4: 30 June 2023
GRAND FINAL:
Rehearsal: 18 July 2023
Show: 21 July 2023
CLICK HERE FOR TERMS & CONDITIONS
If you have any questions or enquiries, please email openfridays@penrith.city