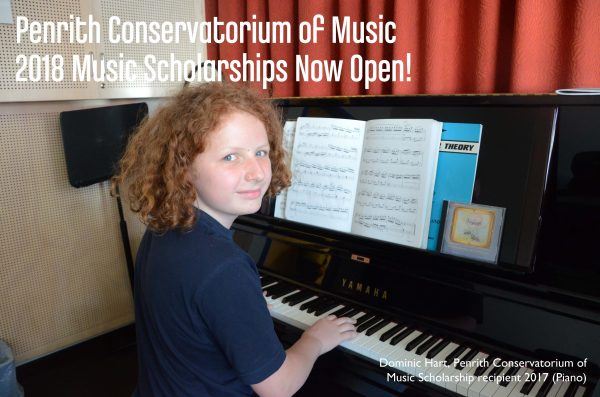 Applications for the 2018 Music Scholarships are now open!
Penrith Conservatorium of Music is excited to announce its prestigious music scholarship program for 2018.
Penrith Conservatorium of Music, housed at the Joan Sutherland Performing Arts Centre is driven by a passion for music that has enriched the lives of the local community for over 28 years.
Penrith and the local region are homes to a wealth of musical talent and the Conservatorium is committed to developing and nurturing this talent.
The Conservatorium is offering seven highly sought-after Scholarships through a competitive application and live audition process. The Scholarships recognise future potential and provide the chance for students to take their gift to the next level.
At the heart of the Conservatorium's Scholarships program is a team of over 20 tutors all with outstanding qualifications as both performers and teachers offering individual tuition from beginner through to AMEB Grade 8 and beyond to concert standard. Many students go on to become musicians and music educators themselves.
Thanks to the generosity of Penrith City Council, donors and benefactors, seven scholarships are open to all instruments including voice, contemporary and classical, students of violin, viola, cello, flute, and guitar. Students and non-students of Penrith Conservatorium of Music are encouraged to apply for this coveted opportunity.
Up-coming musicians who are awarded a scholarship will work with highly qualified teachers and tutors; receive subsidized tuition; experience musicianship and ensemble activity; and, gain access to The Joan family of artists, mentors, courses and concerts – all life changing opportunities that continue to excite and engage students and provide young musicians with very exciting prospects for the future.
The Conservatorium is now calling for applicants for the 2018 scholarships!